Churchill's Washington Humor, Part 1
Churchill's Washington Humor, Part 1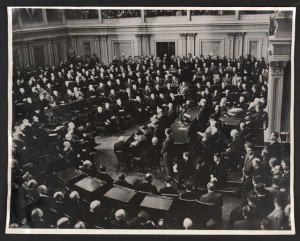 A friend who is deliv­er­ing a Churchill speech in D.C. asked for some exam­ples of Churchil­ian humor involv­ing Wash­ing­ton and U.S. Presidents.
Every­one enjoys Churchill's famous crack in his first (1941) speech to Congress:
"If my father had been Amer­i­can, and my moth­er British, instead of the oth­er way round, I might have got here on my own!" That brought down the house.
When in the U.S., Churchill liked to empha­size his Amer­i­can roots. Broad­cast­ing to Amer­i­ca six months ear­li­er, he avowed some­thing he always believed:
The great Burke has tru­ly said, "Peo­ple will not look for­ward to pos­ter­i­ty who nev­er look back­ward to their ances­tors," and I feel it most agree­able to recall to you that the Jeromes were root­ed for many gen­er­a­tions in Amer­i­can soil, and fought in Washington's armies for the inde­pen­dence of the Amer­i­can Colonies and the foun­da­tion of the Unit­ed States. I expect I was on both sides then. And I must say I feel on both sides of the Atlantic Ocean now.
In 1952, dur­ing his third speech to Con­gress, he declared: "I was on both sides in the war between us and we."
The "Naked Encounter"
The most famous exchange with Roo­sevelt dur­ing Churchill's 1941 vis­it to the White House is an "old chest­nut," but every­body enjoys it—and here's one gold­en oldie that actu­al­ly appears to be true:
Pres­i­dent Roo­sevelt, inspired to call the new world body he visu­al­izes the "Unit­ed Nations," wheels him­self into Churchill's room, find­ing the Prime Min­is­ter, as Har­ry Hop­kins put it, "stark naked and gleam­ing pink from his bath."
Roo­sevelt hasti­ly turns his wheel­chair to leave, but Churchill waves him in:
"The Prime Min­is­ter of Great Britain has noth­ing to hide from the Pres­i­dent of the Unit­ed States."
(Or, in anoth­er ver­sion: "You see, Mr. Pres­i­dent, I have noth­ing to hide.")
When queried about this by Roo­sevelt biog­ra­ph­er Robert Sher­wood, Churchill denied it: "I could not pos­si­bly have made such a state­ment as that. The Pres­i­dent him­self would have been well aware that it was not strict­ly true."
A third ver­sion has it that Roo­sevelt sim­ply says: "Unit­ed Nations!" and Churchill responds "Good!"
What­ev­er they said, the encounter appar­ent­ly did hap­pen, because both Churchill's sec­re­tary and body­guard, who were on the trip, con­firmed it. And in Jan­u­ary 1942, speak­ing about his vis­it to King George VI, Churchill said: "Sir, I believe I am the only man in the world to have received the head of a nation naked."
—
Quo­ta­tions are from Churchill By Him­self. Contin­ued in part 2….