"To be opened in the event of my death…"
"To be opened in the event of my death…"
I am doing some work for my Eng­lish AS course and need a com­par­i­tive piece to go with a poem I am study­ing. I have tried look­ing for Win­ston Churchill's good­bye let­ter to his wife but have been unsuc­cess­ful. Is there any way I could even have a part of the text of the let­ter for my stud­ies? —A.S., UK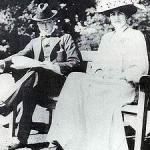 This was a great let­ter. Expect­ing he would like­ly wind up fight­ing in France after his removal as First Lord of the Admi­ral­ty in 1915, Churchill wrote his wife a let­ter to be opened in the event of his death. Lady Soames writes: "The let­ter shows what deep faith he had in her judg­ment and res­o­lu­tion…" (Clemen­tine Churchilll, 127). From Churchill by Him­self, page 531:
Duchy of Lan­cast­er Office, 17 July 1915 (excerpt)…
I am anx­ious that you should get hold of all my papers, espe­cial­ly those which refer to my Admi­ral­ty admin­is­tra­tion. I have appoint­ed you my sole lit­er­ary executor….There is no hur­ry; but some day I should like the truth to be known. Ran­dolph will car­ry on the lamp. Do not grieve for me too much. I am a spir­it con­fi­dent of my rights. Death is only an inci­dent, and not the most impor­tant which hap­pens to us in this state of being. On the whole, espe­cial­ly since I met you my dar­ling one I have been hap­py, and you have taught me how noble a woman's heart can be. If there is any­where else I shall be on the look out for you. Mean­while look for­ward, feel free, rejoice in life, cher­ish the chil­dren, guard my mem­o­ry. God bless you. Good-bye.
This let­ter was first pub­lished in Mar­tin Gilbert, edi­tor, Win­ston S. Churchill, Com­pan­ion Vol­ume III, Part 2 : Doc­u­ments, May 1915-Decem­ber 1916. (Lon­don, Heine­mann, 1972), 1098. The biog­ra­phy is now back in print at Hills­dale Col­lege Press.