Misquotes: "At your throat or your feet"
Misquotes: "At your throat or your feet"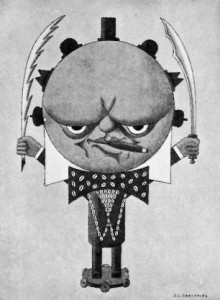 The Huff­in­g­ton Post reports that the Nation­al Memo's Joe Cona­son crit­i­cized Joe Scarborough's ambiva­lent atti­tude toward the Clin­tons by mis­quot­ing Churchill: "It's what he said about the Hun, which is, 'They're either at your feet or at your throat.'"
"You just used a Win­ston Churchill quote to com­pare me to a Nazi because you don't like the facts," Scar­bor­ough replied.
"No, I didn't com­pare you to a Nazi," said Cona­son. "He wasn't talk­ing about the Nazis, he was talk­ing about World War I. [The Huns] were not Nazis."
Ah, all Huns are not Nazis, but in Churchill's con­text, most Nazis were Huns! What joy­ful com­bi­na­tion of red her­rings this is…
Scar­bor­ough and Cona­son were both wrong. It was dur­ing World War II, not World War I (Churchill's speech to Con­gress, 19 May 1943). but Churchill was quot­ing some­one else—regarding the Ger­man Army, not the Nazis:
The proud Ger­man Army has once again proved the truth of the say­ing, "The Hun is always either at your throat or your feet…."
A great line, but no cig­ar for either pun­dit. Ref.: Churchill in His Own Words, 62.