The Problem with Speech Recordings
The Problem with Speech Recordings
I'm cur­rent­ly analysing a few of Churchill's speeces for an aca­d­e­m­ic paper. After lis­ten­ing to the audio files and read­ing along I found a lot of para­graphs which were left out in the radio speech­es. It's espe­cial­ly evi­dent in "Their Finest Hour" from June 18th, 1940 where only a fifth of the text made it to the radio. At one point it sounds like the audio file has been edit­ed. Were the audio files full radio speech­es or just excerpts? —N.K., Copenhagen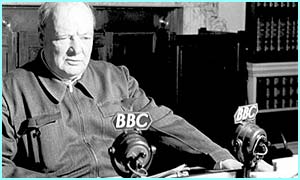 What you are lis­ten­ing to is like­ly a post­war record­ing of speech­es Churchill made for HMV/Decca, which were edit­ed and trun­cat­ed in lat­er ver­sions. How­ev­er, the June 18th speech was rebroad­cast in full by Churchill that evening over the BBC.
Levenger's book, The Mak­ing of the Finest Hour, includes a CD con­tain­ing the full broad­cast. But many Churchill Speech CDs, and LPs before them, con­tained only excerpts. Some of these were tak­en from the BBC broad­casts, but most were record­ed by Churchill years later.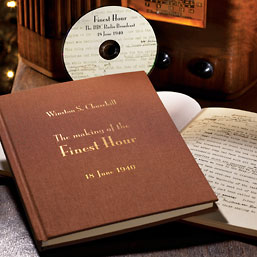 No record­ings were per­mit­ted in the House of Com­mons at that time, leav­ing us with two infe­ri­or pos­si­bil­i­ties: Churchill's broad­cast speech­es over the BBC, or in some cas­es post­war record­ings, both of which—said those who heard them in the Commons—lack the fire of the originals.
See Sir Robert Rhodes James, "Lead­ing Churchill Myths: 'An Actor Read
His Speech­es over the Wire­less,'" Finest Hour 92, post­ed on the Churchill Cen­tre website.
Sir Robert not­ed: 'Prob­lems then arise from the records, Harold Nicol­son lament­ing that it was nec­es­sary to bul­ly Churchill into broad­cast­ing, and, refer­ring to a June 18th broad­cast, "he just sulked and read his House of Com­mons speech over again." Nicol­son was Infor­ma­tion Min­is­ter at the time. Churchill nev­er liked broad­cast­ing, but there is no evi­dence what­ev­er that he was replaced by any­one, and speech researchers have con­firmed this.'