Straitjacketing Churchill (and the Truth)
Straitjacketing Churchill (and the Truth)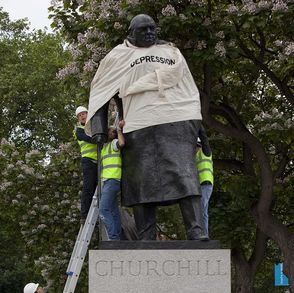 LONDON, JULY 19TH— In what were described as "guer­ril­la raids," BBC Chan­nel 4 "strait­jack­et­ed" the stat­ues of four wide­ly admired Britons: Churchill and Flo­rence Nightin­gale in Lon­don, Charles Dar­win in Shrews­bury and Samuel John­son in Lichfield.
Each fig­ure was "restrained" in a bespoke strait-jack­et which had the men­tal ill­ness they are reput­ed to have had stamped across it. Churchill's was labeled DEPRESSION.
The strait­jack­et­ing was car­ried out to pro­mote Chan­nel 4's sea­son of prime-time pro­gram­ming chal­leng­ing men­tal health stig­ma and dis­crim­i­na­tion, "4 Goes Mad," which start­ed on Mon­day 23 July. The stunt was also cap­tured as part of a short film aired on Chan­nel 4's "Ran­dom Acts."
Com­mis­sion­ing Edi­tor Lina Prest­wood said: "Despite the fact one in four of us are like­ly to expe­ri­ence a men­tal health con­di­tion in our life­time, mis­un­der­stand­ing and stig­ma persists."
We can eas­i­ly agree that Chan­nel 4 has gone mad, but per­haps not quite in the way they mean; that they know lit­tle about Churchill, or his vast­ly over-hyped depres­sion; and that mis­un­der­stand­ing and stig­ma cer­tain­ly per­sist where Sir Win­ston is concerned.
See also "Depres­sion and 'Black Dog'" on this site.