No cards, no flowers: Churchill on Stalin's Death
No cards, no flowers: Churchill on Stalin's Death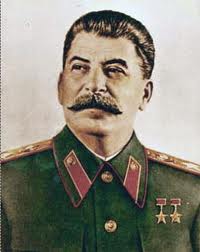 A cor­re­spon­dent to the Finan­cial Times has slipped a red her­ring into the store of Win­ston Churchill quotations.
In a let­ter to the FT on April 14th, Mary Ellen Syn­on was defend­ing Irish Taoiseach Eamon de Valera's 1945 let­ter to the Ger­man Embassy in Dublin express­ing con­do­lences on the sui­cide death of Adolf Hitler. Ms. Syn­on sug­gest­ed that this was just a for­mal­i­ty; after all, Churchill sent con­do­lences to Moscow on the death of Stalin.
For the record, Win­ston Churchill sent no con­do­lences, made no speech­es, didn't even send a sym­pa­thy card, on the death of Joseph Stal­in in March 1953.
A canard we see all over the web has it that Churchill made some speech of praise upon Stalin's death—or, even more pre­pos­ter­ous­ly, ten years lat­er, when Sir Win­ston had long since stopped mak­ing speeches.
None of this is cor­rect. Nei­ther a search through Churchill's 15 mil­l­lion-word dig­i­tal canon, nor the Churchill Archives Cen­tre at Cam­bridge, can find any trace of con­do­lences of any kind.
This is not to say Churchill wasn't mis­led by Stal­in on at least one occa­sion dur­ing World War II. See "Stal­in nev­er broke his word to me." Churchill's Words?"
—-
(The Finan­cial Times ran my cor­rec­tion in their April 27th Let­ters col­umn, but the link I Tweet­ed doesn't work unless you are a reg­is­tered user of the FT website.)