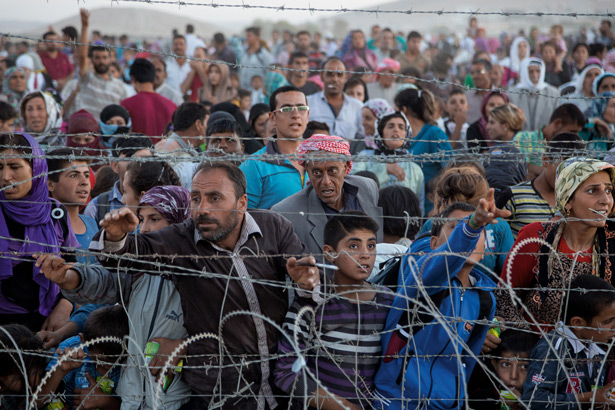 Refugees: Trump is like Churchill? Come on.
Refugees: Trump is like Churchill? Come on.
The Huff­in­g­ton Post for Novem­ber 23rd ("Shocked by anti-Mus­lim Hys­te­ria? Churchill Want­ed to 'Col­lar the Lot'"). They include an unsub­stan­ti­at­ed Churchill quote to describe some­thing about Syr­i­an refugees Don­ald Trump said. It dis­torts Churchill's record.
Anent Trump's alleged pro­pos­al for a data­base of Mus­lims, the Post assures us this was noth­ing com­pared to that well-known xeno­phobe, Win­ston Churchill:
Churchill went even far­ther. He ordered the intern­ment of tens of thou­sands of Jew­ish refugees in Eng­land, label­ing them dan­ger­ous ene­my aliens. … Nation­als from Ger­many and Aus­tria, who were liv­ing in Eng­land when World War II broke out, had already been assigned to dif­fer­ent group­ings based on their appar­ent threat to the UK. Cat­e­go­ry A were the "high secu­ri­ty risks." All 600 of them were imme­di­ate­ly interned.
Those deemed "no-secu­ri­ty risk" in Class C, includ­ed 55,000 refugees from Nazi oppres­sion. The great major­i­ty of them were Jew­ish, and left free—at first. But then, in the Spring of 1940, France fell. With fear of a Ger­man inva­sion, and the entry of Italy into the war, spy fever broke in Eng­land. Action was demand­ed against thou­sands of "dan­ger­ous aliens" liv­ing there. Unwill­ing to con­sid­er which of those for­eign­ers might actu­al­ly be dan­ger­ous, Churchill com­mand­ed "Col­lar them all."
"Collaring" Refugees
Churchill had oth­er things on his mind in Spring 1940 than which refugees were dan­ger­ous. But let it go. Peo­ple who write such things have no con­cept of what it was like to live in 1940s Britain, under the threat of immi­nent extinction.
"Round­ing up" 70,000 Ger­man, Czech and Aus­tri­an aliens in Britain occurred regard­less of reli­gion. No doubt a lot were Jews, with good rea­son to exit the Greater Ger­man Reich.
Accord­ing to Nor­man Rose in Churchill: The Unruly Giant, "col­lar the lot," or "col­lar them all" was an expres­sion meant to pro­tect alien refugees from "out­raged pubic opin­ion." It did not refer to pre­vent­ing spy­ing or acts of sab­o­tage. That we can believe. Dur­ing World War I, Lon­don­ers kicked Ger­man dachs­hunds in the streets. But I can't find either expres­sion in any­thing Churchill said or wrote.
Reconsidering
We often dis­tort these quotes. I have just gone round with a read­er of my piece on François Hol­lande, who insists—re bomb­ing ISIS—that we should mim­ic Churchill, who want­ed to "make the rub­ble dance" in Nazi Ger­many. But what Churchill said referred not to bomb­ing Ger­many but to London's brav­ery in the Blitz. He said that after awhile, the only thing the Ger­mans could do to make things worse in Lon­don was "make the rub­ble jump." Which is quite different.
Hills­dale College's Win­ston S. Churchill, Doc­u­ment Vol­ume 15 shows that Churchill soon recon­sid­ered his atti­tude toward interned aliens. In 1940, he favored expelling them, but a year lat­er he had relent­ed. He said it would be more humane to con­script some into pub­lic ser­vice, per­haps as "a For­eign Legion." You can look it up: page 391.
What Churchill concluded
Churchill was in the van­guard of those urg­ing the end of wartime restric­tions on lib­er­ty as soon as pos­si­ble. In 1943 he ordered the release of the British fas­cist leader Oswald Mosley, who had been interned in 1940. Churchill wrote:
The pow­er of the Exec­u­tive to cast a man into prison with­out for­mu­lat­ing any charge known to the law, and par­tic­u­lar­ly to deny him judge­ment by his peers for an indef­i­nite peri­od, is in the high­est degree odi­ous, and is the foun­da­tion of all total­i­tar­i­an Gov­ern­ments, whether Nazi or Communist….Nothing can be more abhor­rent to democ­ra­cy than to imprison a per­son or keep him in prison because he is unpop­u­lar. This is real­ly the test of civil­i­sa­tion. —Churchill by Him­self, 102
Churchill, as William Man­ches­ter wrote, "always had sec­ond and third thoughts, and they usu­al­ly improved as he went along. It was part of this pat­tern of response to any polit­i­cal issue that while his ear­ly reac­tions were often emo­tion­al, and even unwor­thy of him, they were usu­al­ly suc­ceed­ed by rea­son and generosity."
It isn't worth remon­strat­ing with the Huff­in­g­ton Post, which is only look­ing for anoth­er way to skew­er Mr. Trump—who says so many skew­er­able things that it's hard­ly nec­es­sary to make any up.
It does sug­gest anoth­er chap­ter for my book. Win­ston Churchill, Myth and Reality.