Pearl Harbor: Did Churchill Know?
Pearl Harbor: Did Churchill Know?
This may seem like a sil­ly ques­tion but it was brought up by a sup­posed World War II "his­to­ri­an," with no proof, of course. The per­son stat­ed that Churchill "tricked" Franklin Roo­sevelt into join­ing the war effort. Is there any proof of this or is it just a myth? I find it hard to believe. FDR joined the war after Pearl Har­bor was attacked. I can­not see how some­one is tricked into join­ing a war. Any insight you can give will be much appre­ci­at­ed. —G.K.
It's an old favorite of the "full-moon­ers," but has long been reject­ed by the more seri­ous his­to­ri­ans.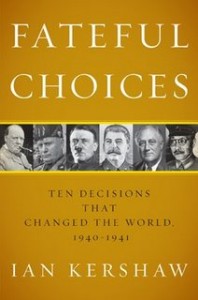 Sir Ian Ker­shaw, the Hitler biog­ra­ph­er, pub­lished a fine book that touch­es on this and relat­ed events: Fate­ful Choic­es: Ten Deci­sions that Changed the World, 1940-1941, which I reviewed in 2008.
Ker­shaw points out that Churchill was near despair in late 1941, think­ing the USA would nev­er come in, and won­der­ing how he would cope in 1942 with a reel­ing Stal­in as his only ally in arms. So nat­u­ral­ly, Churchill was heart­ened and felt relieved when he heard the news from Hawaii, and frankly admit­ted that he "slept the sleep of the saved and the thank­ful."
One of the fas­ci­nat­ing accounts in Ker­shaw is how Japan went to war vir­tu­al­ly expect­ing to lose, and how FDR and his Sec­re­tary of State, Cordell Hull, so han­dled mat­ters as almost to cause Japan to strike. I was sur­prised and intrigued at this new angle on Tojo and Hiro­hi­to. This is a well-writ­ten, fast-paced book that is def­i­nite­ly worth read­ing.