Operation Mincemeat: The Sicily Deception
Operation Mincemeat: The Sicily Deception
A rather breath­less review in The New York Times in May described Ewen Mon­tagu, "The man who nev­er was," as a prin­ci­pal in a decep­tion which tricked the Nazis into expect­ing an inva­sion of Greece rather than Sici­ly by the Allies in 1943, after hav­ing dri­ven Rom­mel and the Afri­ka Korps from North Africa. The idea—which the Times implies was unheard of until now—was to drop a corpse where it would con­ve­nient­ly wash up on a Span­ish beach, plant­ed with false papers nam­ing Greece as the inva­sion tar­get and Sici­ly as the diver­sion. The Spaniards would hope­ful­ly place the false papers in Ger­man hands, and the Ger­mans would shift their defens­es to Greece and ignore Sicily—the real target.
The corpse was that of Glyn­d­wr Michael, a Welsh gar­den­er, "The Man Who Nev­er Was," sub­ject of a video and a website.
Improb­a­ble? Yet, the review continues,
…the oper­a­tion suc­ceed­ed beyond wildest expec­ta­tions, fool­ing the Ger­man high com­mand into chang­ing its Mediter­ranean defense strat­e­gy and allow­ing Allied forces to con­quer Sici­ly with lim­it­ed casu­al­ties. It was one of the most remark­able hoax­es in the his­to­ry of espionage.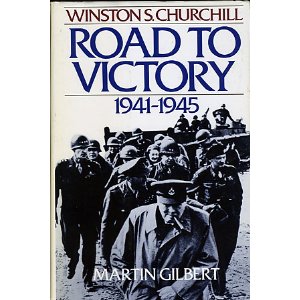 Accord­ing to the review, Oper­a­tion Mince­meat, by Ben Mac­in­tyre, cred­its the decep­tion to Ewen Mon­tagu, "a shrewd crim­i­nal lawyer and worka­holic with a pre­ma­ture­ly reced­ing hair­line and a pen­chant for stinky cheese." Won­der­ful stuff, but like many sto­ries in the Churchill genre, this is not a new sto­ry but an old one, which Sir Mar­tin Gilbert cov­ered long ago—nearly a quar­ter cen­tu­ry ago, in fact, in his Vol­ume VII of the Churchill offi­cial biog­ra­phy, Road to Vic­to­ry (1976).
The Times review omits the orig­i­na­tor of the plan, who was not Ewen Mon­tagu but Flight Lieu­tenant Charles Chol­mond­ley (pro­nounced "Chum­ley") of MI5, who had been act­ing as a liai­son offi­cer with Col. John Bevan's decep­tion team, the Lon­don Con­trol­ling Sec­tion. It was Bevan who secured the approval of the Prime Min­is­ter, albeit with some doubts. "Of course," Churchill said, "there's a pos­si­bil­i­ty that the Spaniards might find out that this dead man was in fact not drowned at all from a crashed air-craft, but was a gar­den­er in Wales who'd killed him­self with weed-killer." When Bevan added that the wind and tide might be wrong and the body might not wash up, Churchill replied, "…well, in that case you'll have to take him on anoth­er swim, won't you." (Road to Vic­to­ry, page 405.)
As Mar­tin Gilbert's book explains, Chol­mond­ley had the idea and Mon­tagu was put in charge of set­ting it up. Sir Mar­tin does cred­it Mon­tagu with "indis­pens­able sup­port" for the suc­cess­ful hoax.
While Sir Mar­tin gives this sto­ry the three pages it deserves, I won­der if it's the stuff of an entire book. A his­to­ri­an col­league writes: "It may be just a good sto­ry that exag­ger­ates the impor­tance of the decep­tion, as intell oper­a­tives and offi­cers invari­ably do. But to do more than sug­gest that would require research in the mil­i­tary intell files to detect just what the effect of the decep­tion real­ly was."
Macintyre's book per­haps does this. Among pre­vi­ous avail­able infor­ma­tion, none men­tions any trans­fer of sig­nif­i­cant (or insignif­i­cant) num­bers of troops from Italy to Greece. Mine­fields and port defens­es in Greece hard­ly divert­ed resources from Sici­ly. The loss of a group of motor tor­pe­do boats would not have had a sig­nal effect on the inva­sion of Sici­ly. Send­ing Rom­mel to Greece was a sign that the Ger­mans bought the deception—but Rom­mel he was no "defen­sive" general.
Mar­tin Gilbert wrote that "Oper­a­tion Mince­meat" was a suc­cess­ful enter­prise. The Spaniards found the washed up body, allowed the Ger­mans to copy the papers, and the Ger­man High Com­mand "antic­i­pat­ed" Greece and the Balka­ns as the loca­tions of Allied land­ings, with Sici­ly as a cov­er oper­a­tion. Mus­soli­ni demurred, but accord­ing to Gilbert, Hitler reject­ed his ally's wise skep­ti­cism. Wrote Admi­ral Doenitz: "The Fuehrer does not agree with the Duce that the most like­ly inva­sion point is Sicily."
Tote one up to Mus­soli­ni, not famous for his mil­i­tary per­spi­cac­i­ty, and anoth­er bon­er for Adolf Hitler. The sto­ry puts me in mind of what Churchill said when Hitler escaped assas­si­na­tion in July 1944:
When Herr Hitler escaped his bomb on July 20th he described his sur­vival as prov­i­den­tial; I think that from a pure­ly mil­i­tary point of view we can all agree with him, for cer­tain­ly it would be most unfor­tu­nate if the Allies were to be deprived, in the clos­ing phas­es of the strug­gle, of that form of war­like genius by which Cor­po­ral Schickl­gru­ber has so notably con­tributed to our victory.