"No one left…without feeling a braver man."
"No one left…without feeling a braver man."
I'm search­ing for a quote about William Pitt, used also about Churchill in 1940: some­thing like, "No one left his pres­ence who did not feel braver," but more elo­quent. —M.M., Indiana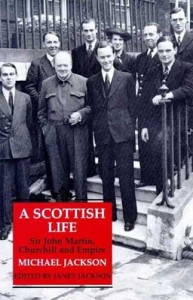 The quote about Pitt is from the 30 May 1940 diary of John Mar­tin, one of Churchill's pri­vate sec­re­taries, first pub­lished in Mar­tin Gilbert's Offi­cial Biog­ra­phy, Win­ston S. Churchill, vol. VI, Finest Hour 1939-1941 (Lon­don: Heine­mann, 1983), 435-36:
Dur­ing May 30 [1940] Desmond Mor­ton sent Churchill a sev­en page note by the Aus­tralian High Com­mis­sion­er in Lon­don, Stan­ley Bruce, argu­ing, in one of its para­graphs, in favour of an inter­na­tion­al con­fer­ence "to for­mu­late a peace set­tle­ment." Churchill struck out this para­graph, and wrote in the mar­gin: "No." Cross­ing out Bruce's final point, that "the fur­ther shed­ding of blood and the con­tin­u­ance of hideous suf­fer­ing is unnec­es­sary" and that the bel­liger­ents should "cease the strug­gle," Churchill wrote: "Rot," and went on to note, for Mor­ton: "The end is rot­ten." That night one of Churchill's pri­vate sec­re­taries, John Mar­tin, wrote home: "The PM's con­fi­dence and ener­gy are amaz­ing. 'Nobody left his pres­ence with­out feel­ing a braver man' was said of Pitt; but it is no less true of him."
The Churchill Centre's Churchillchat tracked the quote, about William Pitt the Elder, to Colonel Bar­ré, who was appoint­ed Trea­sur­er of the Navy in 1754, but not­ed that Mar­tin did not have it quite right. Accord­ing to R.F. Winch's Essays on William Pitt, Earl of Chatham (1898) Bar­ré said: "No one ever entered his clos­et who did not come out of it a braver man."
The date of Martin's com­ment is sig­nif­i­cant. Only two days before, on May 28th, Churchill had pre­vailed in the debate over whether to seek an armistice with Hitler, pos­si­bly through Mus­soli­ni, as sug­gest­ed by Lord Hal­i­fax:
I have thought care­ful­ly in these last days whether it was part of my duty to con­sid­er enter­ing into nego­ti­a­tions with That Man [Hitler]….The Ger­mans would demand our fleet—that would be called 'disarmament'—our naval bases, and much else. We should become a slave state….And I am con­vinced that every man of you would rise up and tear me down from my place if I were for one moment to con­tem­plate par­ley or sur­ren­der. If this long island sto­ry of ours is to end at last, let it end only when each one of us lies chok­ing in his own blood upon the ground. (Gilbert, 420.)
Churchill wrote, with per­haps some exag­ger­a­tion in his war memoirs:
There occurred a demon­stra­tion which con­sid­er­ing the char­ac­ter of the gathering—twenty-five expe­ri­enced politi­cians and Par­lia­ment men, who rep­re­sent­ed all the dif­fer­ent points of view, whether right or wrong, before the war—surprised me. Quite a num­ber seemed to jump up from the table and come run­ning to my chair, shout­ing and pat­ting me on the back. There is no doubt that had I at this junc­ture fal­tered at all in the lead­ing of the nation I should have been hurled out of office. I was sure that every Min­is­ter was ready to be killed quite soon, and have all his fam­i­ly and pos­ses­sions destroyed rather than give in. In this they rep­re­sent­ed the House of Com­mons and almost all the peo­ple. It fell to me in these com­ing days and months to express their sen­ti­ments on suit­able occa­sions. This I was able to do because they were mine also. There was a white glow over-pow­er­ing, sub­lime, which ran through our Island from end to end. (Their Finest Hour, Lon­don: Cas­sell, 1949, 48.)
John Martin's com­par­i­son of Churchill to Pitt was quot­ed by both David Irv­ing and John Charm­ley in their crit­i­cal biogra­phies. A brief toast to Messrs. Irv­ing and Charmley.
Before and since we've heard the refrain: Churchill destroyed the British Empire and laid the way for Rus­so-Amer­i­can hege­mo­ny by reject­ing Realpoli­tik and refus­ing to "do a deal" with "That Man," Churchill him­self replied to this short­ly after his retire­ment in 1955 when it was raised by his pri­vate sec­re­tary. Sir Antho­ny Mon­tague Browne records Churchill's answer in his book, Long Sun­set (Lon­don: Cas­sell, 1955, 200):
You're only say­ing that to be provoca­tive. You know very well we couldn't have made peace on the heels of a ter­ri­ble defeat. The coun­try wouldn't have stood for it. And what makes you think that we could have trust­ed Hitler's word—particularly as he could soon have had Russ­ian resources behind him? At best we would have been a Ger­man client state, and there's not much in that.