Benjamin Netanyahu on #Churchill
Benjamin Netanyahu on #Churchill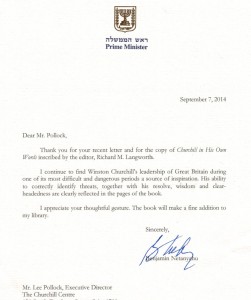 Prime Min­is­ter Netanyahu pays Sir Win­ston Churchill a com­pli­ment (and this writer a small­er one), in his thanks for a gift of an inscribed copy of my book, Churchill In His Own Words, a col­lec­tion of 4000 anno­tat­ed quo­ta­tions (which Churchill real­ly said), along with a short appen­dix of the pop­u­lar apho­risms he nev­er said but which are fre­quent­ly cred­it­ed to him (Churchillian Drift).
The Prime Min­is­ter is not new to Churchill; he is one of those few states­men who pay more than rou­tine lip-ser­vice to Churchill's role in his­to­ry. Unlike most lead­ers who invoke his name, Mr. Netanyahu has actu­al­ly read Churchill exten­sive­ly, and applied his thought frequently.
With thanks for his kind remarks I quote here­with from his speech to the Unit­ed Nations on 24 Sep­tem­ber 2009, which demon­strates the Prime Minister's abil­i­ty to draw guid­ance from Churchill's words, with­out using them to pro­claim what would do today.
A democ­ra­cy legit­i­mate­ly defend­ing itself against ter­ror is moral­ly hanged, drawn and quar­tered, and giv­en an unfair tri­al to boot. By these twist­ed stan­dards, the UN Human Rights Coun­cil would have dragged Roo­sevelt and Churchill to the dock as war criminals….

Over sev­en­ty years ago, Win­ston Churchill lament­ed what he called the "con­firmed unteach­a­bil­i­ty of mankind": the unfor­tu­nate habit of civ­i­lized soci­eties to sleep until dan­ger near­ly over­takes them. Churchill bemoaned what he called the "want of fore­sight, the unwill­ing­ness to act when action will be sim­ple and effec­tive, the lack of clear think­ing, the con­fu­sion of coun­sel until emer­gency comes, until self-preser­va­tion strikes its jar­ring gong…."

I speak here today in the hope that Churchill's assess­ment of the "unteach­a­bil­i­ty of mankind" is for once proven wrong. I speak here today in the hope that we can learn from history—that we can pre­vent dan­ger in time. In the spir­it of the time­less words spo­ken to Joshua over 3000 years ago, let us be strong and of good courage. Let us con­front this per­il, secure our future and, God will­ing, forge an endur­ing peace for gen­er­a­tions to come.