Churchill and Monte Cassino, 1944
Churchill and Monte Cassino, 1944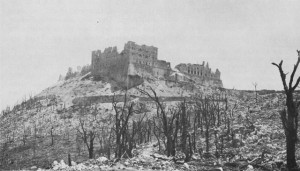 An Ital­ian jour­nal­ist writes for Churchill ref­er­ences to the bomb­ing of Monte Cassi­no dur­ing the Ital­ian cam­paign in Spring 1944, ask­ing about "his silence, lat­er con­tra­dic­to­ry" on the destruc­tion of that ancient monastery.
I was a lit­tle con­fused by his men­tion of "silence," since Churchill issued many let­ters and speech­es at the time, and pro­vid­ed a very full account in Vol­ume 5 of his war mem­oirs, Clos­ing the Ring (Ital­ian edi­tion by Mon­dadori). Churchill him­self made a broad­cast about the cam­paign on March 26th, though he was far from well. In May he paid a three-week vis­it to Mediter­ranean the­aters of war, return­ing exhaust­ed and with pneu­mo­nia. That may have had some­thing to do with his silence at the time.
"Peo­ple seem to think that Winston's broad­cast last night was that of a worn and petu­lant old man," Harold Nicol­son not­ed in his diary on March 27, and he added: "I am sick­ened by the absence of grat­i­tude towards him."
We hear a great deal about Churchill's sup­port for the "futile" and "waste­ful" Ital­ian cam­paign, yet Mar­tin Gilbert notes that Hitler admit­ted it had tied up 35 Ger­man divi­sions by Spring 1944—which, as Churchill telegraphed to Stal­in, was 35 few­er divi­sions than might have opposed the inva­sion of France in June of that year.
I rec­om­mend­ed to my cor­re­spon­dent Total War: The Sto­ry of World War II by Calvo­cores­si, Wint and Pritchard (sec­ond edi­tion 1985, many reprints. I hadn't thought much about Monte Cassi­no before my Ital­ian friend raised it, and this book taught me some­thing I didn't know: that most of the abbey's trea­sures, and its per­son­nel, had been removed before its destruc­tion, and that its destruc­tion ensued when the Ger­mans gar­risoned it:
The Ger­mans super­vised the removal to Rome of the abbey's trea­sures and most of its monks in Octo­ber 1943 when the US Fifth Army, by cross­ing the Volturno and then the San­gro rivers, threat­ened the Gus­tav line. Monte Cassi­no, although an obsta­cle to allied progress, was not of prime mil­i­tary impor­tance since it was sur­round­ed by high­er peaks and the com­bat­ants were under­stood to have assured the Pope that the abbey would be nei­ther for­ti­fied by the one side nor attacked from the air by the other….

The Ger­mans denied that the abbey was being used for mil­i­tary pur­pos­es but their ene­mies were not pre­pared to believe any­thing they said and Gen­er­al Ira C. Eak­er, who was one of a num­ber of senior com­man­ders to make a per­son­al air recon­nais­sance, report­ed that he had seen Ger­man troops in the abbey. The allied com­mand declared that the abbey would no longer be spared and although Amer­i­can, British and French gen­er­als opposed its bom­bard­ment it was attacked on 15 Feb­ru­ary by 142 Fly­ing Fortress­es and destroyed. This oper­a­tion was, how­ev­er, fruit­less. The town and hill were not tak­en and the bat­tle was resumed a month lat­er with a heavy air and artillery bom­bard­ment which reduced the town of Monte Cassi­no to a shambles.
For excerpts on Monte Cassi­no from Mar­tin Gilbert's offi­cial biog­ra­phy, Win­ston S. Churchill, vol. 7, Road to Vic­to­ry 1941-1945, please con­tact this writer.