Mary Soames: Patron, Mentor, Friend
Mary Soames: Patron, Mentor, Friend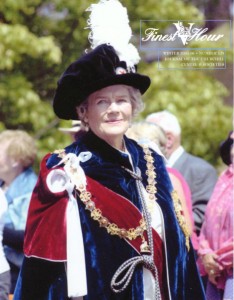 From the Sum­mer 2014 issue of Finest Hour….
You may won­der why she is not on the cov­er. Our dear friend Lady Soames, who died peace­ful­ly at 91, sur­round­ed by her fam­i­ly, on May 31st at 8:35 pm, in fact deserves more than a hasti­ly con­coct­ed cov­er: she deserves a spe­cial edi­tion of Finest Hour, and that is what she shall have, issued between the sum­mer and autumn numbers.
I say this notwith­stand­ing that I can hear her words: "Real­ly, you are going way O.T.T. [over the top] and it's sil­ly to make a fuss." Nev­er mind, Mary, we are going to make a fuss.
Some read­ers knew her longer. Bar­bara and I knew her since 1983, when she attend­ed her first Churchill Tour, which began at the Churchill Hotel in Lon­don. She soon became Patron of the Inter­na­tion­al Churchill Soci­ety, replac­ing Lord Mount­bat­ten, who died in 1979, the vic­tim of assas­sins. From that time for­ward, she was our con­stant cor­re­spon­dent, reg­u­lar com­pan­ion at con­fer­ences and tours, some­time house­guest, friend­ly crit­ic, deci­sive men­tor and per­son­al friend. There is no one out­side our own fam­i­ly whom we loved more, and her loss removes one of the things that make life worth living.
What this spe­cial issue will con­tain may not be known until we sign off on the final proof, but we do know that the thoughts of any friend of hers are most wel­come. Email rlangworth@winstonchurchill.org.
What will we say in the first-ever spe­cial edi­tion of Finest Hour that the world will not have said by the time it appears, we hope in time for her memo­r­i­al ser­vice? Notwith­stand­ing what she meant to Chartwell, the Nation­al Trust, the Churchill Memo­r­i­al Trust, the Churchill Archives Cen­tre and the Nation­al The­atre, we will con­cen­trate on what we know best, the mem­o­ry of her par­ents, because that is the mis­sion, the role she saw as unique­ly ours to play: nev­er going "O.T.T." with praise, but striv­ing, as she often remind­ed us, "to keep the mem­o­ry green and the record accurate."
I am pleased every time writer warns against declar­ing what Win­ston Churchill would do nowa­days, because that was her com­mand­ment. "We don't know, do we?" she would say. "When­ev­er some­one declares what he would do today, I reply: 'How do you know?'"
To reflect on what she meant to that splen­did mem­o­ry, and to us, will be work aplen­ty, and that work begins now, so you will have to excuse me. I would how­ev­er like to leave you with the words of my friend Lar­ry Arnn, Pres­i­dent of Hills­dale Col­lege, pub­lish­er of the offi­cial biog­ra­phy and for forty years a fel­low "toil­er in the vine­yard," in Mar­tin Gilbert's phrase:
"She knew how to be the daugh­ter of a great man. She did this by being a good per­son." To that I would only add that in doing so, she achieved great­ness her­self. —RML