"Marketing a War": Ken Rendell's WW2 Museum
"Marketing a War": Ken Rendell's WW2 Museum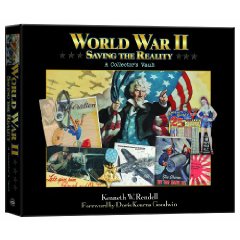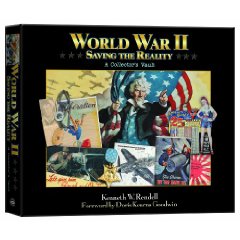 World War II: Sav­ing the Real­i­ty, A Collector's Vault, by Ken­neth W. Ren­dell. Whit­man Pub­lish­ing, hard­bound, slip-cased, 144 pages, pro­fuse­ly illus­trat­ed in col­or with 80 repli­cas, $49.95, $32.97 from Amazon.
Here is the most indis­pens­able guide ever cre­at­ed to the war that made us what we are today. From teenagers to vet­er­ans, read­ers will be enthralled with this portable ver­sion of Ken Rendell's Muse­um of World War II: that inim­itable col­lec­tion of wartime mem­o­ra­bil­ia, doc­u­ments, per­son­al effects and auto­graphs housed in an unla­beled build­ing in sub­ur­ban Boston.
Vis­its to the Muse­um itself are nec­es­sar­i­ly restrict­ed. Being pri­vate, it has no pub­lic-access facil­i­ties; more­over, there are no barriers—thousands of exhibits are dis­played in the open. As you can imag­ine, Mr. Ren­dell is rather par­tic­u­lar about who mean­ders through his trove, although qual­i­fied group vis­its are pos­si­ble. But through his book, every­one may expe­ri­ence and even "han­dle" his artifacts.
It would take pages to describe the exhibits, but this book does a thor­ough job. The col­lec­tion is dis­played in full col­or, with repro­duc­tions of paper items—from post­cards to passports—tucked into envelopes and pock­ets, or taped to the pages of a mas­sive land­scape for­mat book housed in a stur­dy slipcase.
The Ren­dell col­lec­tion runs from iden­ti­fi­ca­tion papers for SS sol­diers to the rough draft of the Munich Agree­ment, with amend­ments in their own hand by Hitler and Cham­ber­lain (pre­served for years by the fam­i­ly of Nevile Hen­der­son, the British Ambas­sador to Nazi Ger­many; from maps of inva­sion plans (includ­ing Ger­man plans for occu­pa­tion of Ire­land) to wartime pro­pa­gan­da posters from every bel­liger­ent; from Holo­caust and POW doc­u­ments to con­fi­den­tial let­ters from Roo­sevelt to Churchill; from first edi­tions of Mein Kampf and the Diary of Anne Frank to Ger­man town signs warn­ing Jews not to enter; from offi­cer insignia fash­ioned by pris­on­ers from food tins to Nazi fly­ers designed to demor­al­ize invad­ing Allied troops: "Blondes pre­fer strong and healthy men—not cripples!"
On my last vis­it to the Muse­um, Mr. Ren­dell showed me a recent acqui­si­tion: an inno­cent look­ing sheet of cheap, yel­lowed sten­cil paper labeled OPERATIONS ORDER and dat­ed 6 August 1945. On it are the names of a flight crew: Tib­bets, Sweeney, Mar­quardt, McK­night; and the nota­tion: "BOMBS: Spe­cial." It is the ops-order for the atom­ic bomb that dev­as­tat­ed Hiroshi­ma. Sure enough, a per­fect repli­ca of this price­less doc­u­ment is con­tained in a pock­et of the final chap­ter of the book.
Indeed, no out­stand­ing item from the fab­u­lous Ren­dell col­lec­tion seems to be miss­ing, except maybe his tank, land­ing craft, Hitler's per­son­al effects, the box of "gentleman's toi­letries" Her­mann Goer­ing took to prison in Nurem­berg, and life­size wax fig­ures of Churchill, Hitler, Pat­ton and Montgomery—most of these are pho­tographed in col­or. The book, like the muse­um, is laid out in chrono­log­i­cal order, from the pros­trate Ger­many that emerged a defeat­ed nation after World War I, to Vic­to­ry over Japan in Sep­tem­ber 1945.
By far the most chill­ing aspect of this col­lec­tion are the bril­liant­ly effec­tive Nazi graphics—from uni­forms to ban­ners and swasti­ka-bedecked stan­dards pat­terned after those the Roman Empire—for indeed this was to be the Reich that would last a thou­sand years. Ken Ren­dell col­lect­ed the Nazi mate­r­i­al with a great deal of repug­nance, know­ing it was need­ed to tell the sto­ry. Some­times he had to deal with some pret­ty scary char­ac­ters: liv­ing, breath­ing Nazis who view the Third Reich as a lost opportunity.
On my last vis­it I stud­ied the array of Ger­man pro­pa­gan­da posters, which begin by depict­ing Hitler as the benign Führer, pre­sid­ing over bucol­ic farm­ers and moth­ers with chil­dren, then grad­u­al­ly evolve to race-bait­ing admo­ni­tions and exhor­ta­tions of Deutsch­land Erwacht! I remarked at how supe­ri­or the Ger­man graph­ic artists were to every­body else. Ken Ren­dell nod­ded in agree­ment: "They were the best," he said. They were try­ing to mar­ket a war—and they succeeded."
Don't fail to secure your copy of this book. You might want extra copies for your chil­dren and grand­chil­dren, to remind them of what our fore­bears went through to secure our liberty.