Churchill and the Kilkenny Cats
Churchill and the Kilkenny Cats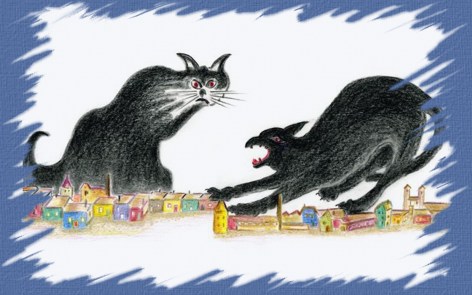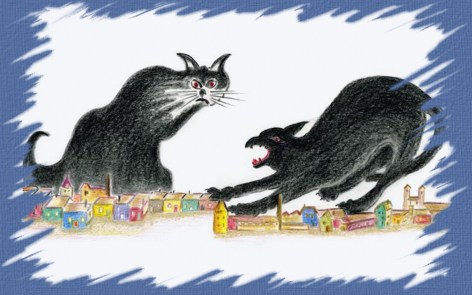 Or: "Is the U.S. Sen­ate like the Kilken­ny Cats?"
A Churchillian friend who has writ­ten to her Sen­a­tors emails:
This brief video by Sen­a­tor Rand Paul is a good exam­ple of why the Unit­ed States Con­gress has only a 10% approval rat­ing. Isn't Sen­a­tor Reid in charge in the Sen­ate? The video explains why the Sen­ate is an insult to the Amer­i­can people.
I've giv­en up on the U.S. Sen­ate, myself. I'm glad some­body is still writ­ing them letters.
Will any read­er advise whether Sen­a­tor Paul won on his July 29th point of order, attempt­ing to get extra time to read a 600-page Sen­ate bill due for a vote in six or eight hours?
Nat­u­ral­ly there is a Churchill quo­ta­tion which suits the habit­u­al behav­ior of the Unit­ed States Sen­ate (as there is a Churchill quo­ta­tion for just about every­thing). Speak­ing in the House of Com­mons on 18 March 1912 Churchill remarked:
It will resem­ble the con­test between Mamil­ius and Her­minius at the bat­tle of Lake Regillus, or the still more home­ly con­flict of the Kilken­ny cats. That is a very sat­is­fac­to­ry reflection.
Ref­er­ence is Churchill By Him­self, pages 226-27, https://www.amazon.com/dp/1586486381/?tag=richmlang-20
There once were two cats of Kilkenny,

Each thought there was one cat too many.

So they fought and they fit,

And they scratched and they bit

Till, except­ing their nails

And the tips of their tails

Instead of two cats there wer'n't any.
With acknowl­edge­ment for the above to the Book of Tales, http://www.bookoftales.com/tales/kilkenny.html