Jordan, Part 4: "Somewhere West of Laramie"
Jordan, Part 4: "Somewhere West of Laramie"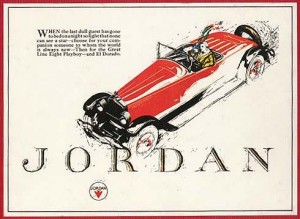 Con­tin­ued from Part 3
Ned Jor­dan spent July 4th, 1923 at his Rhode Island sum­mer home, watch­ing his daugh­ter Jane per­form tricks on a salty pony: "That child could ride—well enough to win prizes at rodeos….
Three days lat­er, on the Over­land Lim­it­ed, bound for San Fran­cis­co. A chat, at about dusk, with Mr. Austin, a New York lawyer, in the for­ward end of the lounge car. We passed some sta­tion in Wyoming, too late to catch the sign. Just then a husky some­body whirled up on a rarin' cayoose…he, act­ing as if he'd nev­er seen a Union Pacif­ic train. She remind­ed me of Jane.

"Where are we now?" I inquired, to make conversation.

"Oh, some­where west of Laramie," yawned my companion.

I took an enve­lope from my pock­et, wrote down the phrase, and added, as I looked from the win­dow, "there's a bron­co-bust­ing, steer-rop­ing girl who knows what I'm talk­ing about. She can tell what a sassy pony, that's a cross between greased light­ning and the place where it hits, can do with eleven hun­dred pounds of steel and action when he's going high, wide and hand­some. The truth is—the Jor­dan Play­boy was built for her…"
Artist Fred Cole pro­vid­ed the per­fect art­work of the girl on her horse rac­ing a fly­ing Play­boy. The job was done.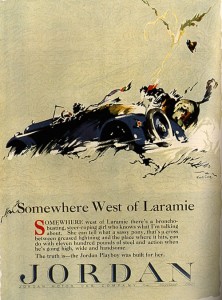 Imag­ine how that broad­side hit the war-weary public—women especially—at a time when cars were pro­mot­ed with para­graphs of spec­i­fi­ca­tions. "That was no mun­dane vehi­cle of a sol­id sphere," Ned recalled. "That car was an ethe­re­al char­i­ot, imbued with the spir­it of young romance and old box­ing gloves….
The let­ters poured in. A girl in Ohio wrote: "I don't want a posi­tion with your Com­pa­ny. I just want to meet the man who wrote that adver­tise­ment. I am twen­ty-three, a blonde, weight 130. My wings are spread. Just say the world and I'll fly to you."

I think the best things are writ­ten like that. A man writes as he feels…or, he com­pos­es, with an effort, hop­ing to make oth­ers feel….Stephen Fos­ter asked his broth­er to name a south­ern riv­er to use in his song…rejected "Peedee" for the name "Suwa­nee." Broth­er knew his geog­ra­phy, Stephen knew rhythm….With the right copy you can get a smile out of the Sphinx.
The best Jor­dans began with the 1925 Line Eight: 125.5 inch­es of wheel­base, rak­ish­ly low, 74 horse­pow­er, an unprece­dent­ed turn of speed, only $1695. Jordan's best year was 1926: over 11,000 cars, led by the Line Eight Play­boy and the senior Great Line Eights.
Ned pre­dict­ed a good year in 1927, "but no repeat of twen­ty-six." Then he made a mis­take, one often made in the car busi­ness: he launched a small car before its time. The Lit­tle Cus­tom expressed Jordan's tra­di­tion­al goal of light­ness, bal­ance, pre­ci­sion and econ­o­my. It had chis­eled lines, crowned fend­ers, alu­minum radi­a­tor, lux­u­ri­ous uphol­stery, a wick­er dash with pol­ished wal­nut instru­ment pan­el. It flopped.
The com­pa­ny ran into the red. "The big vol­ume man­u­fac­tur­ers began sell­ing on time pay­ments, financ­ing their dis­trib­u­tors," Jor­dan com­plained. "In 1928 the indus­try pro­duced about 5,800,000 cars. That num­ber couldn't be mer­chan­dized at a prof­it. The shad­ow of 1929 was clear­ly on the wall. We start­ed to liq­ui­date in 1928, fin­ished in 1931."
Jordan's health failed along with his mar­riage after 1927, and his inter­est waned, though his firm toward the end built its best cars ever. The com­pa­ny went out in style, field­ing the ulti­mate Jor­dan, the apt­ly named Mod­el Z. Only four­teen were built (one sur­vives). The rest of the line remained unchanged for 1930-31; In 1932 Jordan's assets were liquidated.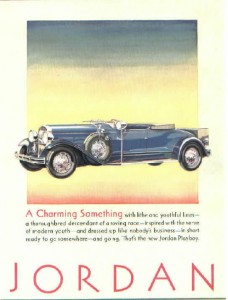 Were Jor­dans real­ly any good? "If you want to find out, ask one of the own­ers," Ned would say. "There are a few on the road yet. I know one that has gone 400,000 miles. The own­er got a lump in his throat when I told him my name. He loves that car—and it's four times as old as my daugh­ter Kate."
Ned Jor­dan nev­er reen­tered the car busi­ness. He remar­ried in 1940 and joined MacArthur Adver­tis­ing, where he spun prose for three-dimen­sion­al signs in rail­road ter­mi­nals. In the Fifties he enjoyed a come­back. writ­ing a pop­u­lar col­umn, "Ned Jor­dan Speaks," for Auto­mo­tive News. "I won't charge you a nick­el for my pon­tif­i­cal advice," he wrote a friend of mine. "It's always free."
Jor­dan died in New York in 1958, the orig­i­nal romancer of the auto­mo­bile. His "Gold­en Girl from Some­where" nev­er aged. Through Ned's words, she's still there in our col­lec­tive mem­o­ry: "When the Spring is on the moun­tain and the day is at the door…leave the hot pave­ments of the town. Then heigh-ho!…for the open road. Five roads to the right, five roads to the left…and you'll greet the ris­ing sun in El Dorado."