Jordan, Part 2: Ned Jordan and his Mother Kate
Jordan, Part 2: Ned Jordan and his Mother Kate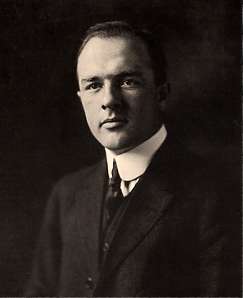 Con­tin­ued from Part 1…
Edward S. Jor­dan was born in 1882, the only boy in a fam­i­ly of six, in the lum­ber town of Mer­rill, Wis­con­sin: talk­a­tive, brash, a lit­tle bit rude, with heaps of deter­mi­na­tion but lit­tle mon­ey. He wore white spats and bright ties and well-tai­lored suits, but he wasn't a huck­ster. He had style, like the cars he built and the words he wrote.
Work­ing his way through the Uni­ver­si­ty of Wis­con­sin as a news­pa­per reporter, Jor­dan dis­cov­ered a tal­ent for words. His sales and adver­tis­ing know-how was learned with the help of two peo­ple: his moth­er and John Hen­ry Patterson.
Kate Grif­fin Jor­dan taught her son about people—a knowl­edge, Ned wrote, "vital to all good adver­tis­ing. She nev­er used the word 'psy­chol­o­gy,' but she did say that 'Tilly Hart wound up at the Dev­il Creek place because she val­ued silk stock­ings above her immor­tal soul,' [and] 'Mrs. Webster's Fred has been raised to five dol­lars a day, so she is try­ing to learn to like olives and read a book.'"
John H. Pat­ter­son was Pres­i­dent of the Microsoft of its day: Nation­al Cash Reg­is­ter, with a 97 per­cent mar­ket share for the lead­ing busi­ness machine of its time. He hired Jor­dan out of col­lege. "Do at least one thing, how­ev­er sim­ple it may be, a lit­tle bet­ter than any­body else," Pat­ter­son said. "Then go out and make your prospec­tive buy­er feel as you do about your prod­uct. Just remem­ber, a man is only half-sold until his wife is sold."
Ned's wife, one of the Jef­frey girls from Kenosha, Wis­con­sin, sold him. Mar­ry­ing her got Ned into the car busi­ness. In 1907 he arrived in Kenosha, hav­ing been fired by Pat­ter­son: "Any man fired by John H. is worth from $10,000 a year on up to any busi­ness. 'How'd you get fired?' was the lodge greet­ing among old N.C.R. men….
[I] met [Jeffery's] Char­lie McArthur at the sta­tion, had lunch in the din­er, and was hired as adver­tis­ing man­ag­er. I was suc­ces­sive­ly branch man­ag­er, sales man­ag­er and sec­re­tary of the Jef­frey Com­pa­ny before I was thir­ty. Con­fi­den­tial­ly, I was the one who encour­aged Char­lie to sell to Nash, because he knew I was then plan­ning to orga­nize the Jor­dan Company.
Well before he found­ed Jor­dan in Jan­u­ary 1916, Ned had seen the light:
Cars are too dull and drab. Peo­ple dress smart­ly, so why should they dri­ve pro­sa­ic look­ing auto­mo­biles? I think peo­ple are grow­ing sick and tired of ordi­nary cars. Great careen­ing arks of bulk and extrav­a­gance. The world is too full of the commonplace.
Build what the cus­tomer wants, Ned insist­ed: "Do you know why Hen­ry Ford is the great­est man in the auto­mo­bile indus­try? All the oth­er ear­ly man­u­fac­tur­ers built cars in which they like to ride them­selves. He was the first to build a car for the oth­er fellow."
Jor­dan told investors he would empha­size "appear­ance or style, com­fort and con­ve­nience, pow­er in reserve, durable ser­vice or quality….Thousands of Dodge and Buick own­ers aspire to own a bet­ter car. If you can sell twen­ty-five Jor­dans you stand a good chance of mak­ing forty-five per­cent on your investment."
"We were a bunch of bright kids," Ned reflect­ed. "I was 33, the rest 28, when we start­ed. We did make a lot of mon­ey, awful­ly fast. The Idea was almost too gol darned good."
Con­tin­ue read­ing Part 3…