Churchill wasn't Perfect….Surprise!
Churchill wasn't Perfect….Surprise!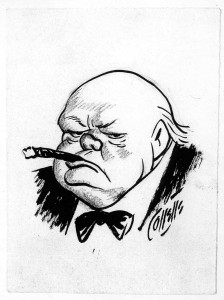 Awk! After the umpteenth arti­cle on Churchill's Fatal Flaws,* cit­ing old chest­nuts long dis­proven (poi­son gas, Ben­gal Famine, oppos­ing all self-deter­mi­na­tion, con­sis­tent hos­til­i­ty to Gand­hi), I began to won­der: Don't these writ­ers ever do research?
Through­out the 2015 Churchill death com­mem­o­ra­tion we've read: Well, yes, he saved the West—but he was human and he made mis­takes (duh!). Why, he even said things that would shock us in our mod­ern enlight­ened age: this age of behead­ings and mas­sacres and and drone strikes and burn­ing peo­ple alive—so far removed from the bad old days of the Pax Bri­tan­ni­ca.
Well, just so the scoffers have some­thing to talk about, here are twen­ty real­ly seri­ous Churchill misjudgments—five dur­ing his finest hours—which got him or the world into trouble—and reli­ably prove that he was not infallible:
1) 1904: Desert­ing his nat­ur­al home, the Con­ser­v­a­tive Par­ty, for polit­i­cal advan­tage, only to be forced back to them lat­er, being ever after regard­ed by both Lib­er­als and Con­ser­v­a­tives as a turncoat.
2) 1915: Cham­pi­oning the Dar­d­anelles and Gal­lipoli oper­a­tions despite slop­py plan­ning and worse exe­cu­tion by mil­i­tary com­man­ders, with­out ple­nary author­i­ty to force a chance of success.
3) 1915: Rely­ing too much on the mer­cu­r­ial, dis­loy­al, hyp­o­crit­i­cal Admi­ral Fish­er, who brought about his (tem­po­rary) polit­i­cal demise. ("In war you can only be killed once, but in pol­i­tics, many times.")
4) 1921: Fail­ing to press his demands for Kur­dish and Jew­ish states while in Cairo help­ing to draw up the bor­ders of the mod­ern Mid­dle East.
5) 1925: Restor­ing the Gold Stan­dard with­out com­men­su­rate reforms in employ­ment, tax and wage policies.
6) 1920s: Not lis­ten­ing to Bernard Baruch before plung­ing into the Wall Street stock mar­ket, and los­ing most of his for­tune in 1929.
7) 1930s: Wast­ing polit­i­cal cap­i­tal oppos­ing the India Bill, which had thump­ing majori­ties in all par­ties. (Of course it can be said that devo­tion to prin­ci­ple is not a fault.)
8) 1934: Try­ing to skew­er Sir Samuel Hoare on an issue of Priv­i­lege (immu­ni­ty from pros­e­cu­tion) for attempt­ing to influ­ence leg­is­la­tion, when Hoare's Con­ser­v­a­tive friends could stack the deck to pro­tect him despite his guilt.
9) 1935-37: Lis­ten­ing to the For­eign Office, which insist­ed he tone down his rhetoric and give Hitler the ben­e­fit of the doubt in his arti­cles and books.
10) 1936: Mut­ing his oppo­si­tion to Hitler's occu­pa­tion of the Rhineland, in the hope of gain­ing polit­i­cal office.
11) 1936: Stand­ing up too long for Edward VIII in the Abdi­ca­tion Cri­sis, long after the King had lost the right to sup­port from anybody.
12) 1940: Mis­cal­cu­la­tion dur­ing the Nor­way cam­paign of April 1940, although some of this was owed to Cab­i­net dithering.
13) 1940: Plac­ing too much faith in the French Army.
14) 1940: Accept­ing lead­er­ship of the Con­ser­v­a­tive Par­ty, instead of remain­ing a non-par­ty leader at the head of the wartime coalition.
15) 1940: Con­fus­ing Blitzkreig with the sta­t­ic war­fare of World War I.
16) 1941-42: Stress­ing Singapore's sea­ward defens­es, and believ­ing that cap­i­tal ships were large­ly immune from hos­tile aircraft.
17) 1941-45: Believ­ing he could trust Stal­in.
18) 1945: Com­par­ing Attlee and the Labour Par­ty to "a kind of Gestapo" in the Gen­er­al Elec­tion.
19) 1953: Believ­ing that his brand of per­son­al diplo­ma­cy would make a dif­fer­ence Cold War rela­tions after Stalin's death.
20) 1956: Not inter­ced­ing more force­ful­ly to resolve the Anglo-Amer­i­can split dur­ing the Suez Cri­sis.
Not every­one buys every­thing on this list; there are con­trary argu­ments on some items, espe­cial­ly 1, 9, 10, 14, 17 and 19.
But Churchill him­self con­sid­ered many crit­i­cisms valid: 2) "…a supreme enter­prise was cast away, through my try­ing to car­ry out a major and car­di­nal oper­a­tion of war from a sub­or­di­nate posi­tion" (Their Finest Hour, chap­ter 1, 1949).
5) "Every­body said that I was the worst Chan­cel­lor of the Exche­quer that ever was. And now I'm inclined to agree with them" (1930).
11) "I'm glad I was wrong" (1953).
13/15) "I was shocked by the utter fail­ure to grap­ple with the Ger­man armour, which, with a few thou­sand vehi­cles, was encom­pass­ing the entire destruc­tion of mighty armies" (Their Finest Hour, chap­ter 3, 1949.)
16: "The effi­cien­cy of the Japan­ese in air war­fare was at this time great­ly under­es­ti­mat­ed both by our­selves and by the Amer­i­cans" (The Grand Alliance, chap­ter 12, 1948).
All these judg­ments, or misjudgments—unlike the dis­proven canards igno­rant crit­ics con­stant­ly trot out—are wor­thy of con­sid­er­a­tion. They remind us that Churchill's faults were, like his virtues, on a grand scale—but that the lat­ter out­weighed the former.
In the words of Pro­fes­sor Paul Addi­son, whom I nev­er cease quot­ing: "I always feel that, para­dox­i­cal­ly, it dimin­ish­es Churchill when he's regard­ed as super-human."
_________
*No soon­er was the linked arti­cle out than the Wash­ing­ton Post chimed in.