Hillsdale's Superb Churchill Biography
Hillsdale's Superb Churchill Biography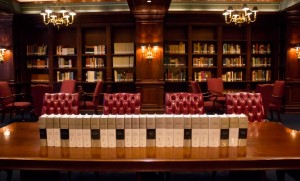 Every­one who labors in "the Churchill vine­yard" knows of Hills­dale College's Churchill Project. It is built around Win­ston S. Churchill, the "offi­cial biog­ra­phy." (The term is a bit mis­lead­ing, since noth­ing was offi­cial or cen­sored.) Read more on this effort on the Project web­site.
Sir Mar­tin com­plet­ed the eighth and final bio­graph­ic vol­ume in 1988. Alas the accom­pa­ny­ing vol­umes of doc­u­ments (aka "Com­pan­ion Vol­umes") stalled in the 1990s. They had reached only through 1941.
Pres­i­dent Lar­ry Arnn of Hills­dale Col­lege, once Gilbert's research assis­tant, arranged in 2006 to take on the job. He has pur­sued it with Churchillian deter­mi­na­tion. With­out him, it is like­ly that the work would nev­er have been fin­ished.
Before his death in 2015, Sir Mar­tin had assem­bled all the doc­u­ments for edit­ing. He col­lect­ed key papers lit­er­al­ly for every day of Churchill's life.
Hills­dale repub­lished at mod­est prices the eight bio­graph­ic and six­teen old­er doc­u­ment vol­umes. Since 2013, it has added two new ones: Test­ing Times, 1942 and One Con­ti­nent Redeemed, Jan­u­ary-August 1943. We are now final­iz­ing The Churchill Doc­u­ments, Sep­tem­ber 1943 to April 1944. This vol­ume will be in print in 2016. Bio­graph­ic e-books are already avail­able, and the doc­u­ment e-books will fol­low.
As we edit the doc­u­ments, we are struck by the sheer vol­ume and vari­ety of issues Churchill con­front­ed. Those who crit­i­cize his some­times bizarre notions or impa­tience with sub­or­di­nates have nev­er begun to con­sid­er the enor­mi­ty of his task.
Vol­ume 19 logs dozens. There was the Ital­ian sur­ren­der, Italy's future, and dis­po­si­tion of the her navy. U.S. and Russ­ian needs had to be con­sid­ered against U.S. and Russ­ian hege­mo­ny. Churchill wor­ried over squan­der­ing the Ital­ian cam­paign to feed the inva­sion of France. He received bel­liger­ent notes from Stal­in, often demand­ing the impos­si­ble. He over­saw dia­logue with­in the War Cab­i­net. He tried to cope with sat­is­fac­to­ry loca­tions for sum­mit meet­ings. Par­lia­men­tary busi­ness was con­stant. Japan and the Pacif­ic war were increas­ing­ly impor­tant. There were speech­es to the coun­try, appoint­ments to fill; vacan­cies to replace, and post­war plan­ning. It goes on page after page, 2500 pages, over a mil­lion words.
Even now in the dig­i­tal age, when politi­cians don't real­ly write any­more, this would be a load for sev­er­al per­sons. Churchill's out­put was extra­or­di­nary, his pre­scrip­tions usu­al­ly under­stand­able and wise. His fore­sight, giv­en the strain of those years, was remark­able.