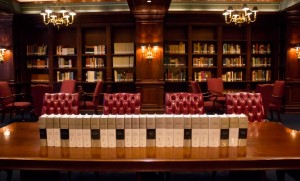 Everyone who labors in "the Churchill vineyard" knows of Hillsdale College's Churchill Project. It is built around Winston S. Churchill, the "official biography." (The term is a bit misleading, since nothing was official or censored.) Read more on this effort on the Project website.
Sir Martin completed the eighth and final biographic volume in 1988. Alas the accompanying volumes of documents (aka "Companion Volumes") stalled in the 1990s. They had reached only through 1941.
President Larry Arnn of Hillsdale College, once Gilbert's research assistant, arranged in 2006 to take on the job. He has pursued it with Churchillian determination. Without him, it is likely that the work would never have been finished.
Before his death in 2015, Sir Martin had assembled all the documents for editing. He collected key papers literally for every day of Churchill's life.
Hillsdale republished at modest prices the eight biographic and sixteen older document volumes. Since 2013, it has added two new ones: Testing Times, 1942 and One Continent Redeemed, January-August 1943. We are now finalizing The Churchill Documents, September 1943 to April 1944. This volume will be in print in 2016. Biographic e-books are already available, and the document e-books will follow.
As we edit the documents, we are struck by the sheer volume and variety of issues Churchill confronted. Those who criticize his sometimes bizarre notions or impatience with subordinates have never begun to consider the enormity of his task.
Volume 19 logs dozens. There was the Italian surrender, Italy's future, and disposition of the her navy. U.S. and Russian needs had to be considered against U.S. and Russian hegemony. Churchill worried over squandering the Italian campaign to feed the invasion of France. He received belligerent notes from Stalin, often demanding the impossible. He oversaw dialogue within the War Cabinet. He tried to cope with satisfactory locations for summit meetings. Parliamentary business was constant. Japan and the Pacific war were increasingly important. There were speeches to the country, appointments to fill; vacancies to replace, and postwar planning. It goes on page after page, 2500 pages, over a million words.
Even now in the digital age, when politicians don't really write anymore, this would be a load for several persons. Churchill's output was extraordinary, his prescriptions usually understandable and wise. His foresight, given the strain of those years, was remarkable.