Facsimile Churchill Holograph Letters
Facsimile Churchill Holograph Letters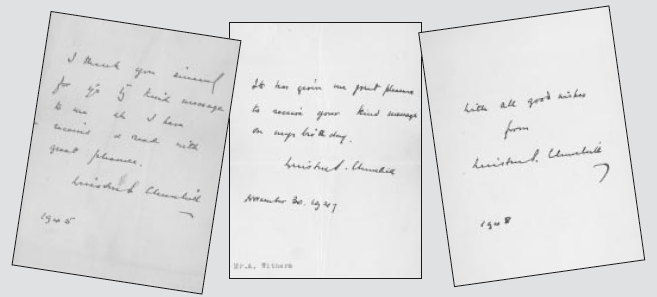 I am fre­quent­ly shown copies of appar­ent­ly gen­uine auto­graph let­ters signed by Churchill and writ­ten entire­ly in his own hand. To the dis­ap­point­ment of many, they are not orig­i­nals, but extreme­ly good fac­sim­i­le copies from Churchill's Pri­vate Office.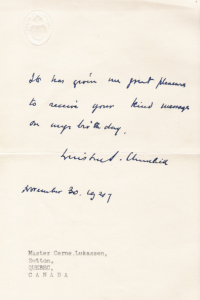 At least nine vari­a­tions of repli­ca print­ed holo­graph notes were repro­duced by the thou­sands by to thank well-wish­ers, whose con­grat­u­la­tions poured in on impor­tant dates such as Churchill's birth­day. They are very nice­ly pro­duced and appear orig­i­nal; some appear actu­al­ly to be col­or sep­a­ra­tions, since they are in blue-black ink and are not just black-and-white. But they are not orig­i­nals and were not signed by Churchill per­son­al­ly. Every so often, the Pri­vate Office would have him write one out, and then repro­duce it for their use. (The orig­i­nal was then destroyed.)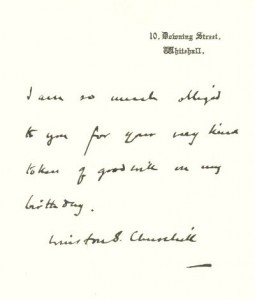 The key is that these fac­sim­i­les lack a salu­ta­tion. Sec­re­taries would sim­ply place them in envelopes and mail them by the hun­dreds to any­one who sent him a greet­ing. Occa­sion­al­ly they would type the name of the recip­i­ent on the bot­tom of the note, but the vol­ume was too great to allow much of this. The val­ue of these fac­sim­i­les on the mar­ket is inci­den­tal. A true auto­graph let­ter by Churchill is, of course, worth much more.
The defin­i­tive arti­cle is "Those Real­is­tic Holo­graph Let­ters" by James Mack, Finest Hour #115, Sum­mer 2002, avail­able from The Churchill Cen­tre or as a .pdf down­load from their web­site.