Churchill and the "Feeble-Minded," Part 2
Churchill and the "Feeble-Minded," Part 2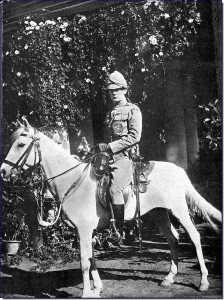 con­tin­ued from part 1…
Churchill's ear­ly atti­tudes toward British "moral supe­ri­or­i­ty" were unfounded—but he was born into a world in which vir­tu­al­ly all his coun­try­men believed the same thing, from the Sov­er­eign to a Covent Gar­den grocer.
And yet it was Churchill, the aris­to­crat­ic Vic­to­ri­an, who argued that Sudanese had a "claim beyond the grave…no less good than that which any of our coun­try­men could make"; that in South Africa, Boer racism was intol­er­a­ble and the Indi­an minor­i­ty deserved the same rights as all British cit­i­zens. (This was some­thing Gand­hi nev­er for­got, though Churchill did, and some­thing which Gand­hi praised years lat­er, when they were oppo­nents over the India Bill.)
It was this same Churchill who urged that shiploads of food be sent to a starv­ing Ger­many after the Great War end­ed the wartime block­ade; that the 1920 Arm­rit­sar mas­sacre in India must be con­demned and its per­pe­tra­tors pun­ished ("Fright­ful­ness is not a rem­e­dy known to the British phar­ma­copoeia"); that the coal min­ers should be com­pen­sat­ed after the 1926 Gen­er­al Strike; that car­pet bomb­ing Ger­man cities in World War II was moral­ly reprehensible.
Nobody else of sim­i­lar stature from 1898 to 1945 ques­tioned any of these out­rages with the same seri­ous­ness. Many of Churchill's lis­ten­ers in those years thought he had lost his mind, call­ing him a trai­tor to his class, a good man gone soft, and so on.
There are count­less oth­er exam­ples of a Churchill buck­ing what Andrew Roberts called "The Respectable Ten­den­cy": of rec­og­niz­ing the rights of oppressed peo­ples long before the World Wars), of under­stand­ing that the claim to lib­er­ty extend­ed beyond Britain—all of which welled up in his finest hour. Yet those views had dom­i­nat­ed his polit­i­cal thought vir­tu­al­ly from the start.
I like what William Man­ches­ter wrote about him: "It was part of his pat­tern of response to any polit­i­cal issue that while his ear­ly reac­tions were often emo­tion­al, and even unwor­thy of him, they were usu­al­ly suc­ceed­ed by rea­son and generosity."
Or Mar­tin Gilbert, who wrote about the thou­sands of doc­u­ments he exam­ined in writ­ing the offi­cial biog­ra­phy: "I nev­er felt that he was going to spring an unpleas­ant sur­prise on me. I might find that he was adopt­ing views with which I dis­agreed. But I always knew that there would be noth­ing to cause me to think: 'How shock­ing, how appalling.'"
On the mat­ter of Eugen­ics (part 1), to equate Churchill's record with "the extrem­i­ties prac­ticed to a tee by the Nazis is"—forgive me—pretty extreme.