Churchill and the "Feeble-Minded," Part 1
Churchill and the "Feeble-Minded," Part 1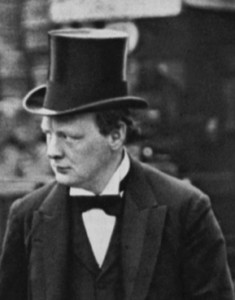 We pub­lished in 2010 an account of Churchill's youth­ful (cir­ca 1910) fling with Eugen­ics, a pseu­do-sci­ence pop­u­lar at the turn of the cen­tu­ry, that favored ster­il­iz­ing or con­fin­ing the "fee­ble-mind­ed" to "main­tain the race" (race being what­ev­er race the Eugen­ics enthu­si­ast hap­pened to be).
This drew an irate let­ter from a man who said he will nev­er think the same of Churchill, know­ing that he could have sup­port­ed such hor­ren­dous ideas (which were actu­al­ly once law in Britain and in some Amer­i­can states):
No tru­ly edu­cat­ed intel­li­gent per­son, even in those ear­ly years, can have bought into Eugen­ics. Churchill's was not just a fling of youth or imma­tu­ri­ty but the decid­ed opin­ion of a near­ly mid­dle-aged man. His sup­port of Eugen­ics could only lead to the extrem­i­ties prac­ticed to a tee by the Nazis.
Our arti­cle sim­ply out­lined the fac­tu­al his­to­ry of Churchill's youth­ful (age 35) Eugen­ics fling—and it cer­tain­ly was a fling, because he aban­doned it quick­ly, along with most intel­li­gent peo­ple, though not all of them. And to say that "no tru­ly edu­cat­ed intel­li­gent per­son" could adopt such views reminds me that a ter­ri­ble lot of edu­cat­ed intel­li­gent per­sons quite hap­pi­ly adopt­ed Nazism and Bol­she­vism.
That aside, stu­dents of Churchill need always to con­sid­er the wider pic­ture, start­ing with an excerpt we pub­lished with that arti­cle, from Paul Addison's Churchill on the Home Front:
Churchill's inten­tions were benign, but he was blun­der­ing into sen­si­tive areas of civ­il lib­er­ty. Yet it is rare to dis­cov­er in the archives the reflec­tions of a politi­cian on the nature of man. Churchill's belief in the innate virtue of the great major­i­ty of human beings was part and par­cel of an opti­mism he often expressed before the First World War.
I think Pro­fes­sor Addi­son by impli­ca­tion sug­gests that Churchill's opti­mism was some­what tem­pered by World War I—or cer­tain­ly by World War II, and with good reason.
To assert that a fleet­ing belief in Eugen­ics by a young Churchill dis­qual­i­fies him as a hero despite his lat­er accom­plish­ments is to accept what the decon­struc­tion­ists say, that since our past is imper­fect, we have no pre­tense to moral leadership.
Con­clud­ed in Part 2…