Eagles are Silent…
Eagles are Silent…
"Very often the eagles have been squalled down by the par­rots." —Churchill, House of Com­mons, 18 Jan­u­ary 1945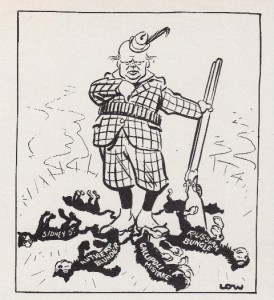 Some sea­soned stu­dents of the man were of two minds about the Jan­u­ary 2015 Win­ston Churchill death cel­e­bra­tions: grat­i­fied that peo­ple still remem­ber; shock at the ill-con­sid­ered assertions.
Old Chestnuts
"The Ten Great­est Con­tro­ver­sies of Win­ston Churchill's Career," 22 Jan 15
This is such a rote per­for­mance, and sad­ly typ­i­cal. First, you tee up Churchill as the sav­ior of 1940. Then you tear him down with the famil­iar litany of charges. I do wish they'd come up with some new ones; the old chest­nuts are get­ting shopworn.
One doesn't mind the BBC address­ing pop­u­lar urban legends—many of us do it all the time. But to offer his sup­posed racist views, the rude things he said about Gand­hi (but not the nice things, or what Gand­hi said about him), or the Sid­ney Street episode as exam­ples of the "top ten" is at best intel­lec­tu­al­ly misleading.
The real con­tro­ver­sies of Churchill's career include the Dar­d­anelles, inter­ven­tion in Rus­sia, Ver­sailles, the Mid­dle East, the Gold Stan­dard, Dis­ar­ma­ment, the Rhineland, Munich (down­load all), Sin­ga­pore, strate­gic bomb­ing, Hiroshi­ma, and post­war sum­mits with the Rus­sians, among oth­ers. (I have sup­plied links to cer­tain arti­cles on these topics.)
Per­haps the BBC is cater­ing to its per­ceived audi­ence, which dotes on pop­u­lar canards. They seem to try to be "fair and bal­anced," but I don't think Churchill gets a fair shake in some of their explanations.
Eagles Reply
"We shall fight them on the BBC" 23 Jan­u­ary 15
This mock inter­view of Churchill aims to answer some of his detrac­tors, and is more amus­ing than the usu­al fare. Sad­ly, though, Churchill nev­er said he could only deal with one s*** at a time….And "Jaw-jaw is bet­ter than war-war" was said by Harold Macmil­lan, not Churchill. It was amus­ing read the quote, "an Iron Cur­tain has fall­en across the con­ti­nent," and then to be told he means the Euro­pean Union.
One miss­es the com­pa­ny of eagles, Sir Mar­tin Gilbert and Lady Soames in con­fronting some of these sto­ries. But no one has the ener­gy to tack­le them all. I am how­ev­er com­fort­ed and guid­ed by a wise and bal­anced his­to­ri­an, Prof. Paul Addi­son, whose books on Churchill remain stan­dard works:
Don't wor­ry about attacks on Churchill. He is alive and kick­ing and haunts the British imag­i­na­tion like no oth­er 20th cen­tu­ry politi­cian. He will always be car­i­ca­tured as he was in his life­time. But free­dom of speech and expres­sion was one of the things he fought for, and in his time he gave as good as he got. The more provoca­tive com­ments about him are a back­hand­ed trib­ute, as they work on the assump­tion that most peo­ple admire him. My own per­son­al view is that he was even greater as a human being than he was as a politi­cian, a role in which he did make mis­takes, as we all do.