The Dallying Duke of Marlborough
The Dallying Duke of Marlborough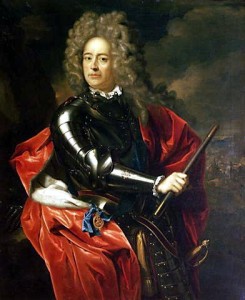 This his­tor­i­cal cor­ner of the Web is exer­cised over the mis­quotes and tall tales about Win­ston Churchill that clut­ter the Internet—by every­body from Wash­ing­ton quar­ter­back Robert Grif­fin III to assort­ed authors and politi­cians (see "Churchillian Drift").
They range from RG III's recent "Courage is what it takes to stand up and speak" (nobody knows who said that, but Churchill didn't) to the fic­tion that Alexan­der Flem­ing twice saved Churchill's life.
But here's an amus­ing exam­ple of Churchill him­self destroy­ing a Churchill myth—about his ances­tor John Churchill, First Duke of Marl­bor­ough. Ref­er­ence is to the ear­ly pages of Marl­bor­ough: His Life and Times, vol. 1: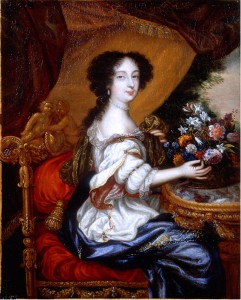 At the begin­ning of 1671 John Churchill was enjoy­ing the com­pa­ny of Bar­bara, First Duchess of Cleve­land. She was twen­ty-nine, he twen­ty. Win­ston Churchill writes:
Affec­tions, affini­ties, and attrac­tions were com­bined. Desire walked with oppor­tu­ni­ty, and nei­ther was denied. John almost imme­di­ate­ly became her lover, and for more than three years this wan­ton and joy­ous cou­ple shared plea­sures and hazards…not sev­ered until the dawn of his love for Sarah Jen­nings [lat­er his Duchess] in 1675.
Unfor­tu­nate­ly or for­tu­nate­ly (we report, you decide), the love­ly Bar­bara had also excit­ed the pas­sions of King Charles II, the prod­uct of which were sev­er­al of Barbara's chil­dren. Churchill continues:
Two of the adven­tures of the lovers are well known. The first [is] that, being sur­prised by Charles in the Duchess's bed­room, John saved her honour—or what remained of it—by jump­ing from the win­dow, a con­sid­er­able height, into the court­yard below. For this feat, delight­ed at his dar­ing and address, she pre­sent­ed him with £5000.

The sec­ond anec­dote is attrib­uted to the French Ambas­sador, Bar­il­lon. The Duke of Buck­ing­ham, he says, gave a hun­dred guineas to one of his wait­ing-women to be well informed of the intrigue. He knew that Churchill would be one evening at a cer­tain hour in Barbara's apart­ments. He brought the King to the spot. The lover was hid­den in the Duchess's cup­board (she was not Duchess till 1670). After hav­ing prowled about the cham­ber the King, much upset, asked for sweets and liqueurs. His mis­tress declared that the key of the cup­board was lost. The King replied that he would break down the door. On this she opened the door, and fell on her knees on one side while Churchill, dis­cov­ered, knelt on the oth­er. The King; said to Churchill, "Go; you are a ras­cal, but I for­give you because you do it to get your bread."
Now Win­ston Churchill loved a good fable as well as the next fel­low. When his lit­er­ary col­lab­o­ra­tor Bill Deakin chal­lenged a well-known myth in his His­to­ry of the Eng­lish-Speak­ing Peo­ples, Churchill declared: "At times of cri­sis, myths have their his­tor­i­cal impor­tance." But he was hav­ing no non­sense about his ances­tor John Churchill:
It is a good sto­ry, and the dou­ble-bar­relled insult is very char­ac­ter­is­tic of Charles. But is it true? Bar­il­lon, who did not him­self arrive in Eng­land till Sep­tem­ber 1677, prob­a­bly got it from his pre­de­ces­sor, Courtin. He fix­es the date as 1667….Here is a fine expo­sure of these gos­sips. There can be lit­tle doubt, as we have shown, that noth­ing of this kind can have occurred before 1671. It is there­fore one of those good sto­ries invent­ed long after­wards and fas­tened, as so many are, on well-known figures.
We have dwelt here­in on false­hoods known as Churchillian Drift. File this one under Marl­bor­ough Drift.
Churchill was nev­er­the­less under no illu­sions about the faults of his ances­tor. "What a downy bird he was," he wrote his wife in 1935…
He will always stoop to con­quer. His long appren­tice­ship as a courtier had taught him to bow and scrape and to put up with the sec­ond or third best if he could get no bet­ter. He had far less pride than the aver­age man.