Churchill Quote "All will be well"
Churchill Quote "All will be well"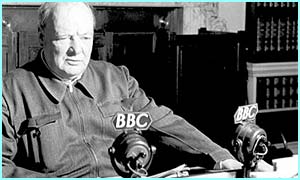 A read­er asks, "was Churchill's phrase 'all will be well' a one-time or habit­u­al expres­sion?" Answer: habitual.
Although not exclu­sive to him by any means, "all will be well" was a very fre­quent Churchillism. In South Africa in 1899-1900, the young Win­ston had picked up the Afrikaans phrase which trans­lates "all will come right." He used both phras­es inter­change­ably because they expressed his sen­ti­ment. As he said at least once: "For myself I am an optimist—it does not seem to be much use being any­thing else…" (Guild­hall, Lon­don, 9 Novem­ber 1954, Churchill By Him­self, page 10.)
There are a half dozen instances of "all will be well" in my book and many scores in his speech­es. For exam­ple: "…live dan­ger­ous­ly; take things as they come; dread naught, all will be well." (1932, Churchill By Him­self, page 20.)
The most famous use of the phrase was on 9 Feb­ru­ary 1941 in Churchill's broad­cast reply to Roo­sevelt, who had sent him the Longfel­low poem, "Sail on, O Ship of State":
"What is the answer that I shall give, in your name, to this great man, the thrice-cho­sen head of a nation of a hun­dred and thir­ty mil­lions? Here is the answer which I will give to Pres­i­dent Roo­sevelt: Put your con­fi­dence in us. Give us your faith and your bless­ing, and, under Prov­i­dence, all will be well. We shall not fail or fal­ter; we shall not weak­en or tire. Nei­ther the sud­den shock of bat­tle, nor the long-drawn tri­als of vig­i­lance and exer­tion will wear us down. Give us the tools, and we will fin­ish the job." (Churchill By Him­self, pages 6-7.)
In those days, a lot of peo­ple thought Churchill was whistling in the wind. And so did he on occasion–privately, of course–up until Pearl Har­bor. From then on, he had no doubt about victory.