Churchill, Orwell and "1984"
Churchill, Orwell and "1984"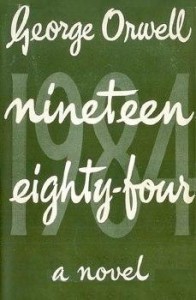 It's the 50th anniver­sary of George Orwell's pre­scient mas­ter­piece 1984, to which end The Sun­day Times pub­lished a review by Robert Har­ris on May 31st.
But in prais­ing 1984, Har­ris finds the need to take a whack at Churchill—which he does with sin­gu­lar inac­cu­ra­cy: "Giv­en that only five years pre­vi­ous­ly Churchill, Roo­sevelt and Stal­in had divid­ed up the world into 'zones of influ­ence' at the Teheran con­fer­ence, [Orwell's] vision did not seem entire­ly fantastic."
What is fan­tas­tic is where peo­ple get such notions. "Zones of influ­ence" came up not at Teheran but at the Moscow ("Tol­stoy") con­fer­ence between Churchill and Stal­in a year lat­er, with the Red Army now far advanced in east­ern Europe. Its only effect was to allow Churchill to save Greece from a com­mu­nist rev­o­lu­tion (tem­porar­i­ly; Stal­in had anoth­er go a few years lat­er). And the only rea­son we even know about the Moscow agree­ment was because Churchill freely described it in his war memoirs.
Mr. Har­ris might have more accu­rate­ly quot­ed Orwell's view of Churchill, not­ed by Robert Pilpel in "Churchill and Orwell," Finest Hour 142, Spring 2009:
His writ­ings are more like those of a human being than of a pub­lic figure….and whether or not 1940 was any­one else's finest hour, it was cer­tain­ly Churchill's….One has to admire in him not only his courage but also a cer­tain large­ness and geniality….The British peo­ple have gen­er­al­ly reject­ed his poli­cies, but they have always had a lik­ing for him, as one can see from the tone of the sto­ries told about him….At the time of the Dunkirk evac­u­a­tion, for instance, it was rumoured that what he actu­al­ly said, when record­ing his speech for broad­cast, was: "We will fight on the beach­es, we will fight in the streets…we'll throw bot­tles at the bas­tards; it's about all we've got left!" One may assume that this sto­ry is untrue, but at the time it was felt that it ought to be true. It was a fit­ting trib­ute from ordi­nary peo­ple to the tough and humor­ous old man whom they would not accept as a peace­time leader [in 1945] but whom in the moment of dis­as­ter they felt to be rep­re­sen­ta­tive of themselves.