Churchill, Obama, and the Sacking of Generals
Churchill, Obama, and the Sacking of Generals
"It is dif­fi­cult to remove a bad Gen­er­al at the height of a cam­paign: it is atro­cious to remove a good Gen­er­al." —Churchill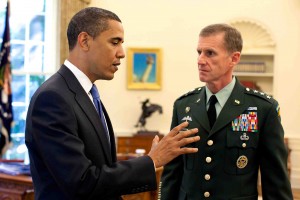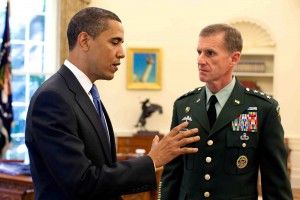 What can we learn by com­par­ing Pres­i­dent Obama's dis­missal of Gen­er­al McChrys­tal to Churchill's dis­missals of Gen­er­als Wavell and Auchin­leck, two dis­tin­guished com­man­ders in World War II? I hope it will not be anoth­er reminder of how stan­dards of con­duct have deteriorated.
Dif­fer­ences first. Churchill's gen­er­als were removed for not suf­fi­cient­ly oppos­ing Irwin Rommel's Afri­ka Korps. McChrys­tal was not under­per­form­ing, and his sit­u­a­tion bears more resem­blance to that of Gen­er­al Dou­glas MacArthur, the Kore­an com­man­der relieved in 1951 by Pres­i­dent Tru­man for insubordination.
Obama's crit­ics are look­ing at that dis­tant episode and expect­ing a wave of revul­sion against the Pres­i­dent, as there was for a time against Tru­man. But McChrys­tal is not MacArthur, and Afghanistan is not Korea. The entire coun­try was for vic­to­ry in Korea; scarce­ly half wants to win in Afghanistan, and MacArthur was a war hero of epic pro­por­tions. Even then, MacArthur's pop­u­lar­i­ty was short-lived. "They start­ed rais­ing mon­ey to buy him a Cadil­lac," Tru­man quipped mer­ri­ly years lat­er, "and you know what? He nev­er got that car."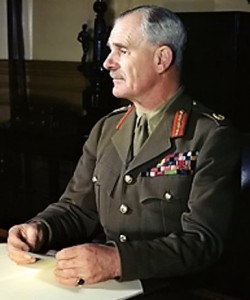 Gen­er­al Archibald Wavell (1883-1950) was relieved of the British Mid­dle East Com­mand on 21 June 1941. In effect he changed places with Gen­er­al Claude Auchin­leck, becom­ing Com­man­der-in-Chief India and, two years lat­er, India's Viceroy.
Gen­er­al Auchin­leck, known as "The Auk" (1884-1981), was relieved of Mid­dle East Com­mand 8 August 1942. Churchill offered him the Iraq and Per­sia Com­mand, which Auchin­leck declined, lat­er reas­sum­ing com­mand of the Indi­an Army.
In reliev­ing Wavell and Auchin­leck, Churchill told them that this was a deci­sion of the Cab­i­net. Obama's deci­sion appeared to be a per­son­al one, though there is no doubt that his Cab­i­net would have approved, for what­ev­er McChrystal's dis­con­tent, such state­ments by mil­i­tary com­man­ders or their sur­ro­gates can­not be tol­er­at­ed under the estab­lished doc­trine of civil­ian con­trol of the mil­i­tary. A more inter­est­ing con­trast may devel­op through what McChrys­tal does now.
Churchill wrote that Gen­er­al Wavell "received the deci­sion with poise and dignity….on read­ing my mes­sage he said, 'The Prime Min­is­ter is quite right. There ought to be a new eye and a new hand in this the­atre.' In regard to the new com­mand he placed him­self entire­ly at the dis­pos­al of His Majesty's Gov­ern­ment." (1) Ear­li­er, Churchill had set out an opin­ion of Wavell that nev­er wavered: "a mas­ter of war, sage, painstak­ing, dar­ing and tire­less." (2)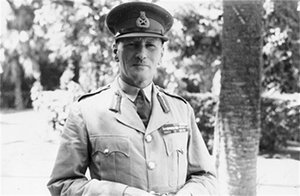 A year lat­er Auchin­leck, his plans against Rom­mel reach­ing an advanced stage, was less inclined to accept dis­missal. But, Churchill wrote, he "received the stroke with sol­dier­ly dig­ni­ty." (3) "It was a ter­ri­ble thing to have to do," Churchill added lat­er. "He took it like a gen­tle­man. But it was a ter­ri­ble thing. It is dif­fi­cult to remove a bad Gen­er­al at the height of a cam­paign: it is atro­cious to remove a good Gen­er­al. We must use Auchin­leck again. We can­not afford to lose such a man from the fight­ing line." (4)
Wavell remained in the Army until 1943, when he took the civil­ian post of Viceroy of India. There he served until 1947. Auchin­leck declined the Iraq and Per­sia Com­mand, believ­ing it was bad pol­i­cy to sep­a­rate it from the Mid­dle East. He returned to India, and when Wavell was made Viceroy he reas­sumed com­mand of the Indi­an Army, retir­ing in 1947 after forty-three years of mil­i­tary service.
McChrys­tal and the British gen­er­als depart­ed pro­fess­ing esteem for their civil­ian chiefs, and vice-ver­sa. Wavell and Auchin­leck retired years lat­er after illus­tri­ous careers, mil­i­tary and civil­ian. It is as yet uncer­tain what McChrys­tal will do now, but that doesn't pre­vent peo­ple from mak­ing guesses.
"I would assume Gen. McChrys­tal will leave the Army, although his dis­missal from com­mand in Afghanistan does not mean he's been thrown out on the street," writes John Eip­per of Adri­an Col­lege. "A book and a speak­ing tour would make more finan­cial sense. Might a polit­i­cal career await him?" (5)
Let's hope not.
Wavell and Auchin­leck, hav­ing been sacked, placed them­selves "at the dis­pos­al of His Majesty's Gov­ern­ment." Lord Hal­i­fax in 1940, find­ing his ideas of a peace deal with Hitler reject­ed by Churchill and the War Cab­i­net, did not offer inter­views to air his grievances—nor would such an act of pub­lic dis­loy­al­ty have occurred to him. George Mar­shall, a dis­tin­guished gen­er­al who lat­er served as U.S. Sec­re­tary of State, had many dis­agree­ments with his chiefs. After he retired he was offered $1 mil­lion for his mem­oirs; he declined, say­ing, "I have already been ade­quate­ly com­pen­sat­ed for my services."
Appar­ent­ly the Pres­i­dent offered no alter­na­tive mil­i­tary appoint­ment to Gen­er­al McChrys­tal, as Churchill—safe in his own skin and dis­dain­ing opin­ion polls—did with Wavell and Auchin­leck, believ­ing their con­tin­ued ser­vice vital to the war effort. We must assume it was not Obama's opin­ion, as it was Churchill's, that "We can­not afford to lose such a man from the fight­ing line."
So…will Stan­ley McChrys­tal now leave the Army, go on a lucra­tive speak­ing tour, write a book with a hefty advance, or go into pol­i­tics? (If the lat­ter, he might want to take a look at what hap­pened to the band­wag­on (dis­avowed) for Dou­glas MacArthur.
The lessons taught by Churchill, Wavell, Mar­shall and Auchin­leck about loy­al­ty to one's chief, and to one's coun­try, remind us of a stan­dard that was once tak­en for grant­ed, and is now almost extinct.
Per­haps Gen­er­al McChrys­tal will defy the odds.
===
End­notes
(1) Win­ston S. Churchill, The Sec­ond World War, vol. III The Grand Alliance (Lon­don: Cas­sell, 1950), 310.
(2) Robert Rhodes James, ed., Win­ston S. Churchill: His Com­plete Speech­es 1897-1963, 8 vols. (New York: Bowk­er, 1974) VI:6346.
(3) Win­ston S. Churchill, The Sec­ond World War, vol. IV The Hinge of Fate (Lon­don: Cas­sell, 1951), 422
(4) Harold Nicol­son Diary, 6 Novem­ber 1942, in Nigel Nicol­son, ed., Harold Nicol­son: Diaries and Let­ters, vol. II 1945-67 Lon­don: Collins, 1967), 259.
(5) World Asso­ci­a­tion of Inter­na­tion­al Stud­ies, 24 June 2010.