Christmas, 1941
Christmas, 1941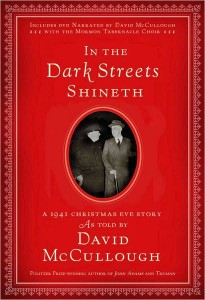 In the Dark Streets Shineth: A 1941 Christ­mas Eve Sto­ry, by David McCul­lough. Shad­ow Moun­tain Books, 56 pages, illus. with DVD, $10.99.
The not­ed biog­ra­ph­er of Har­ry Tru­man and John Adams cre­at­ed this book for the 2010 Christ­mas sea­son. It com­pris­es an essay by the author, the 1941 radio address­es by Pres­i­dent Roo­sevelt and Prime Min­is­ter Churchill (then in Wash­ing­ton) at the light­ing of the White House Christ­mas tree; a pho­to col­lec­tion of Amer­i­cans dur­ing World War II; and a DVD of McCullough's pre­sen­ta­tion of the sto­ry at the Mor­mon Taber­na­cle Choir's 2009 Christ­mas con­cert, includ­ing the choir's per­for­mances of "O Lit­tle Town of Beth­le­hem" and "I'll Be Home for Christmas."
Crit­ics seem unde­cid­ed on whether the book is a nar­ci­sis­stic exer­cise by some­one who enjoys hear­ing his own voice or a nos­tal­gia piece. Eva Mit­nick in the Library Jour­nal con­sid­ered the lead essay ("Music is part of our his­to­ry") incon­se­quen­tial, say­ing the work "isn't par­tic­u­lar­ly suc­cess­ful as either a Christ­mas book or an account of an impor­tant moment in his­to­ry." The sto­ry of Churchill's 1941 vis­it, of course, is already well known from a mul­ti­tude of pre­vi­ous books, and the Roo­sevelt and Churchill speech­es on Christ­mas Eve were brief.
But most read­ers praise the book, espe­cial­ly the DVD record­ing and the Roo­sevelt and Churchill speech­es: "It would take a tougher heart than mine not to shed a tear. This book is a touch­ing and appro­pri­ate gift…especially for those who share mem­o­ries of WW2 or their loved ones that have been far away from home serv­ing their coun­try on Christ­mas." It is cer­tain­ly priced much more mod­est­ly than it might have been.