Churchill on Edmund Burke (Part 2)
Churchill on Edmund Burke (Part 2)
con­tin­ued from Part 1……
More quo­ta­tions on the Great Burke in Churchill By Him­self:
1941, in a broad­cast to America:
The great Burke has tru­ly said, "Peo­ple will not look for­ward to pos­ter­i­ty who nev­er look back­ward to their ances­tors," and I feel it most agree­able to recall to you that the Jeromes [Churchill's mater­nal fore­bears] were root­ed for many gen­er­a­tions in Amer­i­can soil, and fought in Washington's armies for the inde­pen­dence of the Amer­i­can Colonies and the foun­da­tion of the Unit­ed States. I expect I was on both sides then. And I must say I feel on both sides of the Atlantic Ocean now. —BBC, Lon­don, 16 June
1940s, re the Rus­sians in World War II:
A gen­er­a­tion would no doubt come to whom their mis­eries were unknown but it would be sure of hav­ing more to eat and bless Stalin's name. I did not repeat Burke's dic­tum, "If I can­not have reform with­out injus­tice, I will not have reform." With the World War going on all round us it seemed vain to moralise aloud. —The Hinge of Fate (1951)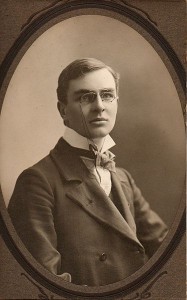 One more ref­er­ence to Burke in is on page 18, a quo­ta­tion by Collin Brooks about Win­ston Churchill the con­ver­sa­tion­al­ist in Churchill By His Con­tem­po­raries (1953):
Nev­er was a talk­er so var­i­ous­ly gift­ed, so ardent­ly lis­tened-to, so lit­tle of a prig; nev­er was a man so wed­ded to pre­ci­sion and ver­bal nice­ty so lit­tle of a pedant….Sir Win­ston Churchill would have been equal­ly wel­comed by Fal­staff in Eastcheap, Ben Jon­son at the Mer­maid, or Burke and John­son at the Mitre, that is, in any coterie where the talk is mas­cu­line, the wit and humour spon­ta­neous, the eru­di­tion unpa­rad­ed, and where gus­to is the prime quality.