Churchill on Edmund Burke (Part 1)
Churchill on Edmund Burke (Part 1)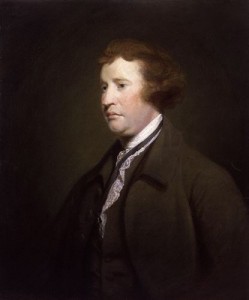 On the Irish states­man and philoso­pher (1729-1797) Churchill had much to say.
I'd like to con­grat­u­late you on your won­der­ful book Churchill By Him­self, but I could not find any Churchill com­ments on Burke in the index. I thought Burke deserved a men­tion, but it's your book, so it's your call (and may I add, it has been one of the best trea­sures that has ever land­ed on my lap!) –V.T., UK
Thanks for the kind words. Unfor­tu­nate­ly the index is the worst fea­ture of the book–completely inad­e­quate, as I tire­less­ly remind the pub­lish­ers. We are hop­ing for a future e-book with a search fea­ture after the next edi­tion appears from the Ebury Press in autumn 2012.
Despite the index's silence, there are four Churchill entries on Edmund Burke:
1897, re the dead in battle:
Look­ing at these shape­less forms, con­fined in a reg­u­la­tion blan­ket, the pride of race, the pomp of empire, the glo­ry of war appeared but the faint and unsub­stan­tial fab­ric of a dream; and I could not help real­is­ing with Burke: "What shad­ows we are and what shad­ows we pur­sue."—The Sto­ry of the Malakand Field Force (1898)
1939, on a call for his dis­missal from Parliament:
Because half-a-dozen grasshop­pers under a fern make the field ring with their impor­tu­nate chink, whilst thou­sands of great cat­tle repose beneath the shad­ow of the British oak, chew the cud and are silent, pray do not imag­ine that those who make the noise are the only inhab­i­tants of the field, that of course they are many in num­ber; or that, after all, they are oth­er than the lit­tle shriv­elled, mea­gre, hop­ping, though loud and trou­ble­some insects of the hour. —WSC to Col­in Thornton-Kemsley
(Churchill was quot­ing Burke to the chair­man of the Chig­well Con­ser­v­a­tive Asso­ci­a­tion, who had cam­paigned to dis­miss Churchill as an MP for his anti-Cham­ber­lain rhetoric. When WSC became Prime Min­is­ter, Thorn­ton-Kem­s­ley sent him his apolo­gies. Churchill replied, "As for me, the past is dead.")
Con­tin­ued in Part 2…