The Biblical Churchill, Part 1
The Biblical Churchill, Part 1
"In my Father's house are many man­sions: if it were not so, I would have told you. I go to pre­pare a place for you." —St. John 14:2[1]

"Arm your­selves, and be valiant men, and see that ye be in readi­ness against the morning…For it is bet­ter for us to die in bat­tle, than to behold the calami­ties of our peo­ple and our sanc­tu­ary. Nev­er­the­less, as the will of God is in heav­en, so let him do." —I Mac­cabees 3:58-60[2]
"More than to any oth­er book or group of books, Churchill alludes to the King James Bible," wrote Dar­rell Hol­ley in Churchill's Lit­er­ary Allusions:
It is for him the pri­ma­ry source of inter­est­ing illus­tra­tions, descrip­tive images, and stir­ring phras­es. His knowl­edge of the Bible man­i­fests itself in direct quo­ta­tions, in para­phrased retellings of Bib­li­cal sto­ries, and in his fre­quent, per­haps even uncon­scious, use of Bib­li­cal terms and phras­es. The Tow­er of Babel, Belshazzar's feast…the mill­stone around the neck, the "great gulf fixed" between Par­adise and Hell [from Luke 16:26] the last great Bat­tle of Armageddon—these occur often in Churchill's writ­ing."[3]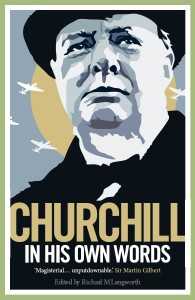 All this may come as a sur­prise to casu­al observers, since it is well known that Churchill was not a reli­gious man. Hav­ing read the lead­ing anti-reli­gious tracts of the late 19th cen­tu­ry, weigh­ing them against the Angli­can teach­ings of his boy­hood, he held a prag­mat­ic atti­tude toward spir­i­tu­al ques­tions: "I adopt­ed quite ear­ly in life a sys­tem of believ­ing what I want­ed to believe, while at the same time leav­ing rea­son to pur­sue unfet­tered what­ev­er paths she was capa­ble of tread­ing."[4]
What moved Churchill was the beau­ty of the King James Eng­lish, bad­ly muti­lat­ed by "new revised" Bibles osten­si­bly designed to make them more "rel­e­vant." He had an ear for the mem­o­rable phrase, and he nev­er hes­i­tat­ed to deploy Bib­li­cal allu­sions both famous and obscure. One of each is suf­fi­cient to demon­strate his exper­tise. See Part 2….
---