Politics Before Country, 1936-2011, Part 2
Politics Before Country, 1936-2011, Part 2
con­tin­ued from Part 1…
Churchill reflect­ed in his mem­oirs on why Prime Min­is­ter Stan­ley Bald­win had refused to admit his coun­try had a defense problem—the ris­ing might of Nazi Germany—because he thought the admis­sion might cost him the 1936 elec­tion:
Mr. Bald­win was of course not moved by any igno­ble wish to remain in office. He was in fact in 1936 earnest­ly desirous of retir­ing. His pol­i­cy was dic­tat­ed by the fear that if the Social­ists came into pow­er even less would be done than his Gov­ern­ment intend­ed. All their dec­la­ra­tions and votes against defense mea­sures are upon record. But this was no com­plete defense, and less than jus­tice to the spir­it of the British peo­ple. The suc­cess which had attend­ed the naive con­fes­sion of mis­cal­cu­la­tion in air par­i­ty the pre­vi­ous year was not repeat­ed on this occa­sion. The House was shocked.
It is obvi­ous to any­one who thinks about pol­i­tics that Baldwin's admis­sion was astound­ing. Politicians—then and now—frequently put pol­i­tics or par­ty before coun­try. But rarely does one admit it—particularly the leader of a nation.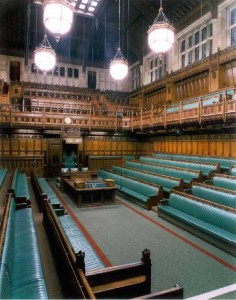 For Churchill, such an act by a head of gov­ern­ment, charged with his country's secu­ri­ty, was as incon­ceiv­able as it was rep­re­hen­si­ble. He replied to Bald­win the same day, 12 Novem­ber 1936:
I have been stag­gered by the fail­ure of the House of Com­mons to react effec­tive­ly against those dan­gers. That, I am bound to say, I nev­er expect­ed. I nev­er would have believed that we should have been allowed to go on get­ting into this plight, month by month and year by year, and that even the Government's own con­fes­sions of error would have pro­duced no con­cen­tra­tion of Par­lia­men­tary opin­ion and force capa­ble of lift­ing our efforts to the lev­el of emer­gency. I say that unless the House resolves to find out the truth for itself it will have com­mit­ted an act of abdi­ca­tion of duty with­out par­al­lel in its long his­to­ry.
The fol­low­ing day, in a pri­vate let­ter to an old friend, Churchill was even more cen­so­ri­ous:
I have nev­er heard such a squalid con­fes­sion from a pub­lic man as Bald­win offered us yes­ter­day." [WSC to Sir Archibald Boyd-Car­pen­ter, 13 Novem­ber 1936, in Mar­tin Gilbert, Win­ston S. Churchill, vol. V, 799.]
✷✷✷✷✷