Politics Before Country, 1936-2011, Part 1
Politics Before Country, 1936-2011, Part 1
A Con­gress­man I respect, observ­ing America's bud­get prob­lem, has pro­posed an elab­o­rate plan to fix it. In the process he has not wilt­ed under the inevitable assault direct­ed toward any­one who defies the sta­tus quo by propos­ing gen­uine change and work­able solutions.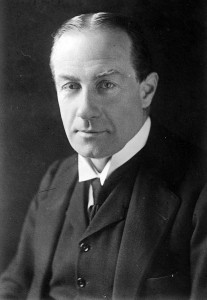 Intend­ing to pre­pare a speech, his pri­vate office asked me to ver­i­fy what Churchill said in 1936, when Britain's Prime Min­is­ter, Stan­ley Bald­win, put pol­i­tics before coun­try by fail­ing to act—in a way that, he said, remind­ed him of cer­tain polit­i­cal behav­ior today. Speak­ing before Par­lia­ment, Bald­win blunt­ly admit­ted that his fail­ure to act to rearm Britain in the face of Nazi Ger­many was owed to his fear that he might lose an election.
Churchill's com­ments are in his book, The Gath­er­ing Storm, pages 169-70 of the British edi­tion (Lon­don: Cas­sell, 1948), in the mid­dle of Chap­ter XII in all editions):
…on Novem­ber 12 [1936] I severe­ly reproached Mr. Bald­win for hav­ing failed to keep his pledge "[to] see to it that in air strength and air pow­er this coun­try shall no longer be in a posi­tion infe­ri­or to any coun­try with­in strik­ing dis­tance of its shores." I said: "The Gov­ern­ment sim­ply can­not make up their minds, or they can­not get the Prime Min­is­ter to make up his mind. So they go on in strange para­dox, decid­ed only to be unde­cid­ed, resolved to be irres­olute, adamant for drift, sol­id for flu­id­i­ty, all-pow­er­ful to be impo­tent. So we go on prepar­ing more months and years—precious, per­haps vital, to the great­ness of Britain—for the locusts to eat."
Prime Min­is­ter Bald­win replied to Churchill with an aston­ish­ing admission:
You will remem­ber at that time there was prob­a­bly a stronger paci­fist feel­ing run­ning through this coun­try than at any time since the war…. Sup­pos­ing I had gone to the coun­try and said that Ger­many was rearm­ing, and that we must rearm, does any­body think that this pacif­ic democ­ra­cy would have ral­lied to that cry at that moment? I can­not think of any­thing that would have made the loss of the elec­tion from my point of view more certain.
This, said Win­ston Churchill,
was indeed appalling frank­ness. It car­ried naked truth about his motives into inde­cen­cy. That a Prime Min­is­ter should avow that he had not done his duty in regard to nation­al safe­ty because he was afraid of los­ing the elec­tion was an inci­dent with­out par­al­lel in our Par­lia­men­tary history.
✷✷✷✷✷