Consistency: Politics Before Country, 1936-2011, Part 3
Consistency: Politics Before Country, 1936-2011, Part 3
Consistency in Politics…
…was a theme of Churchill's, and he often wrote about it. He made many mis­takes, but was sel­dom guilty of lack­ing con­sis­ten­cy. Con­tin­ued from Part 2…
In 1937, Prime Min­is­ter Stan­ley Bald­win retired in favor of Neville Cham­ber­lain, with whom Churchill had served in an ear­li­er gov­ern­ment, and respect­ed despite their polit­i­cal dis­agree­ments in the past. But Churchill was soon dis­en­chant­ed with Chamberlain's for­eign pol­i­cy, which remained as ded­i­cat­ed as Baldwin's had been to appeasement—to not antag­o­niz­ing Germany.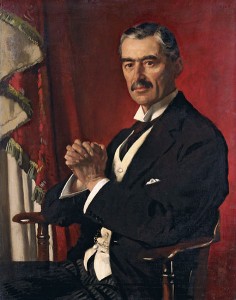 Praising Chamberlain
Cham­ber­lain did begin to rearm the coun­try. In 1939, when Hitler took over what was left of Czecho­slo­va­kia, con­trary to his promis­es in the Munich Agree­ment, Cham­ber­lain sent a British guar­an­tee to the like­ly next tar­get, Poland. "Here," wrote Churchill in his memoirs,
was deci­sion at last, tak­en at the worst pos­si­ble moment and on the last sat­is­fac­to­ry ground, which must sure­ly lead to the slaugh­ter of tens of mil­lions of people.
After Churchill replaced Cham­ber­lain as Prime Min­is­ter in May 1940, the lat­ter remained loy­al, and sup­port­ed Churchill against those who argued that Britain should reach an accom­mo­da­tion with Hitler, and end the war. Cham­ber­lain died in Novem­ber. Churchill eulo­gized him in Par­lia­ment in gen­er­ous words. But he nev­er for­got what he saw as Baldwin's admis­sion of putting pol­i­tics before coun­try. Prais­ing Cham­ber­lain, he said,
"…was not an insu­per­a­ble task, since I admired many of Neville's great qual­i­ties. But I pray to God in his infi­nite mer­cy that I shall not have to deliv­er a sim­i­lar ora­tion on Bald­win. That indeed would be dif­fi­cult to do." [22 Novem­ber 1940; Harold Nicol­son Diaries, II 129]
Baldwin: a startling assessment
Although he main­tained friend­ly rela­tions until Bald­win died in 1947, Churchill—which was rare for him—never for­gave and nev­er for­got. In Jan­u­ary 1946 he made an aston­ish­ing statement:
I wish Stan­ley Bald­win no ill, but it would have been much bet­ter if he had nev­er lived.
Offi­cial biog­ra­ph­er Mar­tin Gilbert wrote in his book, In Search of Churchill
In my long search for Churchill, few let­ters have struck a clear­er note than this one. Churchill was almost always magnanimous….But he saw Bald­win as respon­si­ble for the "locust years" when Britain, if dif­fer­ent­ly led, could have eas­i­ly rearmed, and kept well ahead of the Ger­man mil­i­tary and air expansion.
As we con­tem­plate cur­rent pol­i­tics, let us hope that today's lead­ers do not put polit­i­cal cam­paign­ing ahead of the inter­ests of the nation.
✷✷✷✷✷