Atlantic Conference, Newfoundland, August 1941
Atlantic Conference, Newfoundland, August 1941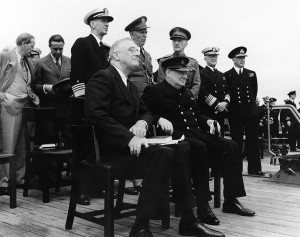 I am research­ing the events sur­round­ing, and indi­vid­u­als active­ly involved in, the first war-time Anglo-Amer­i­can sum­mit, the "Atlantic Con­fer­ence," which took place in at Argen­tia, New­found­land from 9 through 12 August 1941. Most his­to­ries focus on the word­ing of the "Atlantic Char­ter" to the com­plete exclu­sion sub-meet­ings held by chiefs of staff and oth­er high rank­ing indi­vid­u­als from the two coun­tries. They also fail to men­tion that the "Atlantic Con­fer­ence" was actu­al­ly a war coun­cil where strat­e­gy, tac­tics and war materiel logis­tics were dis­cussed in detail over a four-day peri­od. Can you help me devel­op a com­pre­hen­sive list of the indi­vid­u­als who were involved in con­fer­ences those four days? Peo­ple like Sir John Dill, Admi­ral Ernest J. King, Lord Beaver­brook and Sir Alexan­der Cado­gan were not there to sim­ply to attend din­ners. Have mem­o­ran­dums of those meet­ings have ever been released from the con­fi­den­tial files of either coun­try, and if so, how I can obtain copies? —F.B., Alas­ka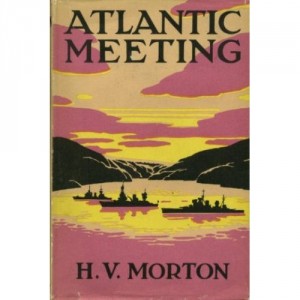 Start by Googling some of these names, if you haven't already. I did and linked the first of many ref­er­ences to each. On books, for the British par­tic­i­pants, start with the Churchill offi­cial biog­ra­phy by Mar­tin Gilbert, Win­ston S. Churchill, vol. 6 Finest Hour 1939-1941 and H.V. Mor­ton, Atlantic Meet­ing. Mor­ton, known main­ly as a trav­el writer, was the "rep­re­sen­ta­tive jour­nal­ist" invit­ed to come along with Churchill's par­ty, and has quite an inter­est­ing sto­ry to tell which touch­es on many British par­tic­i­pants.
For the Amer­i­cans, check stan­dard works about Roo­sevelt and his col­leagues dur­ing the war, such as Robert Sher­wood, Roo­sevelt and Hop­kins (New York: Harp­er & Row, 1948). The Library of Con­gress and Churchill Archives Cen­tre web­sites may also offer some doc­u­ments relat­ing to par­tic­i­pants and any doc­u­ments per­tain­ing to the meet­ing.
In my opin­ion Argen­tia was not a war coun­cil, since the USA was not at war, and remained out of it (to Churchill's great frus­tra­tion) through­out the autumn of 1941. In describ­ing the Argen­tia meet­ing, even Churchill was cir­cum­spect about the USA's actu­al inten­tions. The first true war coun­cil was the one in Wash­ing­ton after Pearl Har­bor. Your idea to com­pile the reac­tions of the advis­ers and mil­i­tary chiefs at Argen­tia is most inter­est­ing and I hope you are able to pro­duce a paper or a book.